Everything You Need to Know About the Movie That Inspired "Parker Gail's Location is Everything"
This week Documentary Now! spotlights a master monologist with "Parker Gail's Location is Everything." Before you tune in at 10P this Wednesday on IFC, check out our guide to Swimming to Cambodia, the 1987 film that captured writer/performer Spalding Gray's acclaimed one-person show.
Spalding Gray 101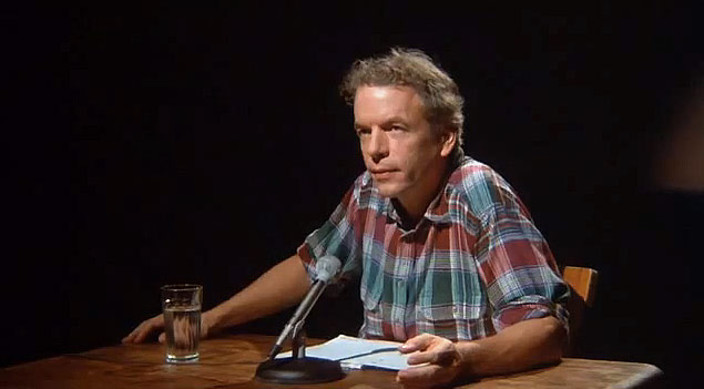 Cinecom Pictures
Actor and renowned monologist Spalding Gray spent two years on stage perfecting his Obie Award-winning "Swimming to Cambodia" monologue. In it, Gray tells the story of his eight weeks in Southeast Asia while shooting the 1984 Academy Award-winning movie The Killing Fields. He had a small role, but the experience gave him several anecdotes about hanging out with the film crew and experiencing the local culture, all while searching for "the perfect moment."
Directed by the Silence of the Lambs Guy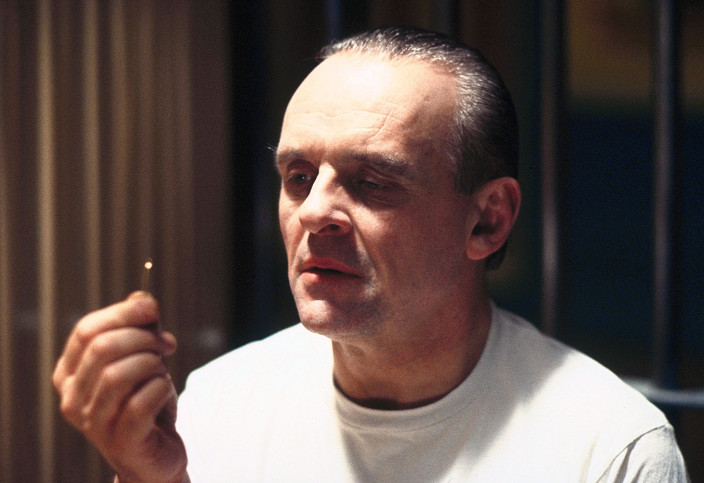 Orion Pictures/Everett Collection
Acclaimed filmmaker Jonathan Demme took Gray's two-night, four hour performance and crafted it down to 85 minutes. His use of dramatic lighting, stylish camerawork and a score by performance artist Laurie Anderson was praised by critics and earned the film a cult following. No stranger to groundbreaking docs, Demme also directed the 1984 Talking Heads concert film Stop Making Sense, which Documentary Now! pays tribute to in this season's episode "Final Transmission."
All about the Voices
https://youtu.be/GViDEo081f4
While it may have been a one-man show, Gray created a repertoire of characters all with distinctive accents. (He portrayed conversations between himself and others just by turning his head.) Our favorite impressions are of his demanding girlfriend Renee and Ivan Strasberg, the South African director of photography on The Killing Fields who, as depicted by Gray, sounds a bit like a Jamaican surfer.
The Original Cranky New Yorker
https://youtu.be/QI4NvgpjXYo
In one memorable scene, Gray rants about how his noisy upstairs artist neighbors are driving him and Renee crazy. Even in the mid-'80s, there were New Yorkers complaining that the city wasn't what it used to be.
Show and Tell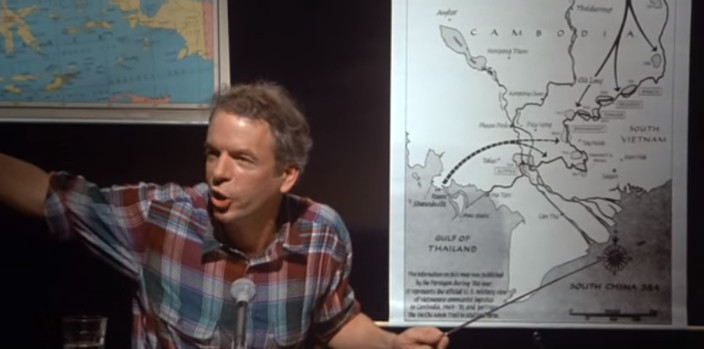 Cinecom Pictures/YouTube
A big fan of visual aids, Gray used pull-down maps to illustrate his travels. This helped to bring Swimming to Cambodia to life, since he's basically sitting at a desk the entire time.
Inspired One-Person Shows
Gray's groundbreaking performances in Swimming and other documentaries like Monster in a Box and the Steven Soderbergh-directed Gray's Anatomy (about Gray's struggle with a rare eye condition) paved the way for future one-person shows. (We wouldn't have everything from Carrie Fisher's "Wishful Drinking" to Mike Birbiglia's "Sleepwalk With Me" without him.) Even Doc Now! star Fred Armisen got into the one-person show act for his recent SNL monologue.
Catch Documentary Now!'s tribute to Spalding Gray when "Parker Gail: Location Is Everything" premieres Wednesday, September 28th at 10P on IFC.