"Portlandia" and "Todd Margaret" Season Two Premieres Tonight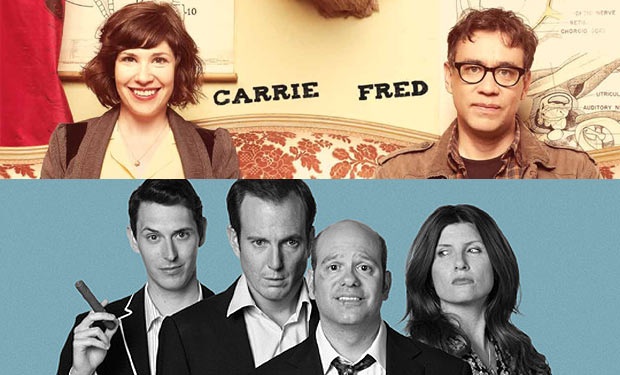 Posted by Melissa Locker on
You know that day you have circled in red in your calendar? The one you've been waiting for in anticipation since last year? Well guess what, you made it! Tonight at 10/9c the second season of "Portlandia" hits IFC's air, followed by the premiere of the second season of "The Increasingly Poor Decisions of Todd Margaret" at 10:30 p.m. ET.
To help you prepare for tonight's "Portlandia" premiere, we are showing all of season one of Fred Armisen's and Carrie Brownstein's hit sketch comedy series beginning at 7/6c. Get reacquainted with all your favorite characters like Toni and Candace from Women and Women First, Bryce and Lisa, and Kath and Dave. The second season of "Portlandia" will have ten all new episodes and will feature a variety of new, wonderfully eccentric characters. Guest stars this season include Kristen Wiig, Penny Marshall, Eddie Vedder, Jeff Goldblum, Amber Tamblyn, Andy Samberg, Tim Robbins and many more.
To get ready for the second season of "Todd Margaret," watch the incredible animated Taiwanese recap below. Asking yourself who is Todd Margaret? Created, written by and starring David Cross (Arrested Development), Todd Margaret is a compulsive liar who finds himself in London heading up the sales office of a new energy drink, Thunder Muscle. The show also stars Will Arnett (Up All Night, Arrested Development) as Todd's boss, Sharon Horgan (Pulling) as the uninterested object of Todd's affection and Blake Harrison (The Inbetweeners) as Todd's mysteriously devious sole employee. Special guest stars this season include Jon Hamm (Mad Men), Amber Tamblyn (House), and Russ Tamblyn (West Side Story). Tune in tonight at 10:30 p.m. ET and remember, cringing with laughter is a great ab workout.
video player loading
.
.
.
Want the latest news about your favorite IFC shows?? Like Portlandia and Todd Margaret on Facebook and follow @IFCportlandia on Twitter and use the hashtag #Portlandia.
"Portlandia" airs at 10/9c followed by "The Increasingly Poor Decisions of Todd Margaret" at 10:30