The 8 Funniest Orson Welles Impressions From Pop Culture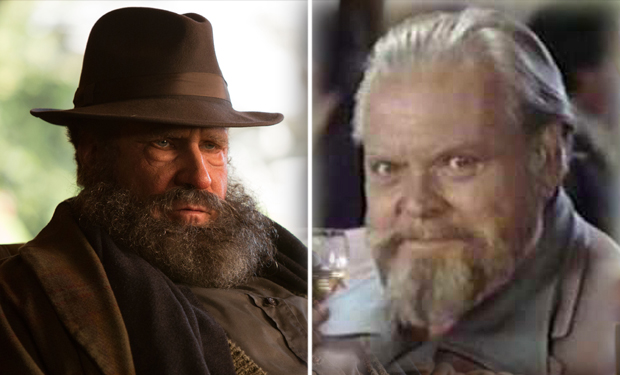 Posted by K Thor Jensen on
There is no figure in the history of American filmmaking that weighs quite as heavy as Orson Welles, no pun intended. The actor, writer and director is most famous for Citizen Kane and his panic-inducing radio broadcast of War of the Worlds, but by the time of his death he was reduced to roles in schlock like Transformers: The Movie. Welles' oversize personality made him rife for parody, and here are some of our favorite takes on the cinematic icon.
8. Pinky and The Brain
Probably the single greatest Welles impersonator in the world is Maurice LaMarche, a Canadian voice actor who has lent his talents to dozens of shows. His most beloved role came in 1993 when he was tapped to play "The Brain" on Animaniacs. The swollen-headed laboratory mouse could only have one voice, and LaMarche's grandiose take on Orson Welles' vocal tics made him iconic.
---
7. The Billy Crystal Comedy Hour
For all of John Candy's many comedic talents, he was never well-known for impressions. Watching this clip of Candy doing a terrifyingly perfect Orson Welles on The Billy Crystal Comedy Hour could change all that. All of Candy's big man zaniness is gone, replaced by the kind of self-congratulatory gravitas that Welles made famous. We'd love to see a whole movie of this.
---
6. Comedy Bang! Bang!
James Adomian stopped by the Comedy Bang! Bang! podcast for their Christmas episode in 2014 to portray Orson Welles as the Spirit of Christmas. He absolutely nails the bilious bloviating that Welles was famous for, and the whole clip is well worth listening to, especially when he starts eating the reindeer.
---
5. The Critic
It's Maurice LaMarche again, this time given the opportunity to play Welles directly. Cult animated comedy The Critic loved to get its hands dirty with Hollywood's best and brightest, and whenever Welles showed up things were hilarious. Whether it's narrating Jay Sherman's parents' video will or a spoof of the classic frozen peas commercial, LaMarche's Welles was a joy to behold.
---
4.  Drunk History
On Drunk History, a wide variety of talented actors and comedians come forth to re-enact sloshed versions of important events. The making of Citizen Kane is probably one of the most seminal moments in Hollywood history, and hiring Jack Black to play Welles was an inspired choice. It's hard for him to rein in his natural tendency to mug, but that tension makes the bit even funnier.
---
3. Ed Wood
Vincent D'Onofrio plays the legendary director in Tim Burton's Ed Wood, and the scene where the Hollywood legend meets the angora-fetishizing trash film king is remarkably emotionally affecting. We can't help but think that playing Welles gave D'Onofrio some ideas for his role as the Kingpin on Daredevil. A little trivia: Vincent's lines were dubbed for the flick by none other than our old friend Maurice LaMarche.
---
2. The Midnight Show
Another excellent James Adomian rendition of Welles, this one for online video production group The Midnight Show. We're back to the scene of the disastrous Paul Masson wine commercial, fertile ground for Welles spoofs, but this selection of purported "outtakes" just get more and more bizarre as they go on.
---
1. The Spoils Before Dying
It's pretty obvious that Will Ferrell's character in The Spoils Before Dying, Eric Jonrosh, has more than a little bit of Welles in him. That resemblance becomes all too clear in this commercial for "Bagpipes O'Toole Scotch-flavored vodka," an obviously fictional product. Ferrell's drunken slurring is a direct homage to Orson stumbling his way through a legendarily painful commercial for Paul Masson "California champagne."