10 Reasons Omar From The Wire Was the Ultimate Badass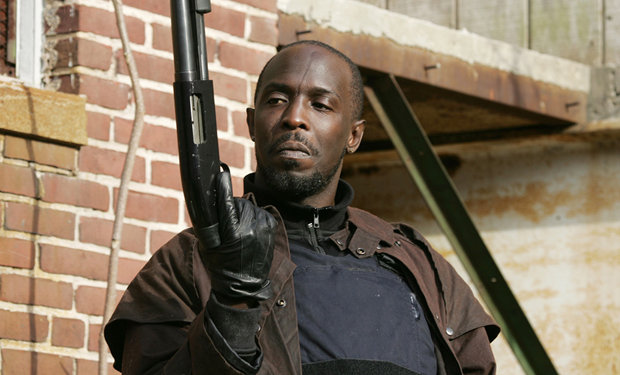 Posted by K Thor Jensen on
Michael K. Williams' path to playing jazz musician Rock Banyon in The Spoils Before Dying is pretty atypical – he worked at a pharmaceutical company and was homeless for a while before being discovered by Tupac Shakur. Everything changed for him in 2002 when he got the role of one of the most iconic badasses in TV history – Omar Little on The Wire.
To get you ready for the July 8th premiere of The Spoils Before Dying, let's recap the reasons why Omar was so awesome. (Spoilers ahead!)
10. He Stood Up to the Gangs
The essential nature of Omar's character was as a sort of hood Robin Hood, no pun intended. Omar made a living not by preying on the innocent (or as innocent as they get on The Wire) but on the predators. This naturally made him not very popular with the Barksdale crew and the other gangs that filled their shoes.
---
9. He Took His Grandma To Church
It takes a lot of guts to be a family man on the mean streets of Baltimore, and every Sunday morning Omar showed respect by going to church with his dear grandmother (who thought he had a honest job at the airport). When two of Barksdale's boys go after him there in the third season, it causes all Hell to break loose. But Omar is always a cool customer.
---
8. He Lives By A Code
In a world where morals are hard to find, Omar is a rare bird: he abides by a strict moral code. Best illustrated by him telling Bunk he "ain't never put my gun on nobody who wasn't in the game," the code keeps Omar level when a tsunami of crap comes his way.
---
7. He Always Gets Revenge
Stringer Bell's cunning plan to pit Omar against Nation of Islam hired gun Brother Mouzone ended badly for the copy shop gangster when the two adversaries figured out they'd been played. Their takedown of Stringer is one of the show's most satisfying moments.
---
6. He Was Only Supposed To Last Seven Episodes
David Simon originally envisioned Omar as just another passing face in the Baltimore crowd, with a character arc lasting just seven episodes and culminating with him dying on his quest for revenge against the Barksdale gang. After watching Michael K. Williams completely inhabit the role, Simon knew that Omar was destined to be a bigger part of the story.
---
5. He Brings His Own Music
All the great badasses have theme songs, and Omar's eerie whistling of "The Farmer In The Dell" created an atmosphere of menace that reverberated through the streets of Baltimore. You knew Omar was coming from a mile away, and all the knowledge in the world couldn't save you.
---
4. He Could Laugh At Himself
After The Wire wrapped, the closely-knit crew went their separate ways. But in 2012 many of the original cast came together for the hilarious Funny or Die clip "The Wire: The Musical," which showed Omar, Bubbles at the rest at their singing, dancing best.

---
3. He Loved With All His Heart
Omar's homosexuality was an incredibly daring choice for the series. Making such a powerful and feared figure gay – and showing him being emotionally intimate with his boyfriends – reminded us that Omar was human, not just a force of nature, and his reaction to Brandon being killed in the first season set many wheels in motion.
---
2. His Fashion Was On Point
Omar's trademark duster and doo-rag combo was all well and good, but you got a totally different view of the man when he showed up in court to testify against Bird. To jazz up his black and red tracksuit, Mr. Little ties on a white silk tie for the couture statement of the century.
---
1. Obama Said So
You may not agree with the POTUS on everything, but you can't deny that Barack Obama has pretty great taste in TV shows. So when he says that Omar was the best character of all time on The Wire, we're going to agree. Now all he needs to do is sign an executive order to make that legally binding.