10 Unreleased Movies You'll Probably Never See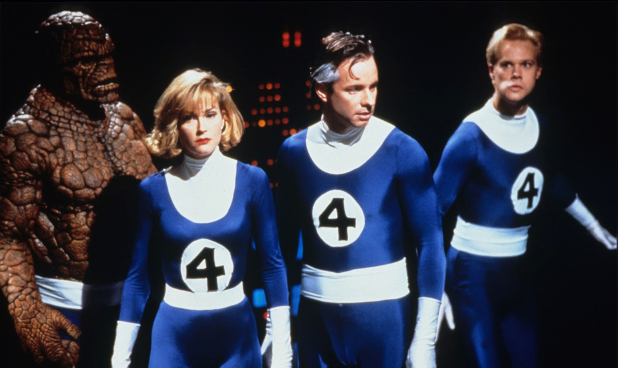 Posted by Brian Steele on
The Spoils Before Dying — the "film-itization" of Eric Jonrosh's tale of sex, murder, and jazz — was banned before ever seeing the light of day. Thankfully, IFC has finally brought his words to life with an epic three-night event that concludes tonight at 9p with back-to-back episodes.
Sadly, not every lost project is so lucky. Whether it's because of funding issues, creative conflicts, or just plain suck-itude, some movies are filmed, even finished, only to spend decades sitting on a shelf. Here are some of the most famous unreleased movies, starring everyone from Bill Murray to Marlon Brando.
---
1. Dark Blood
The last film River Phoenix starred in before his death, Dark Blood remained unfinished for 19 years, until director George Sluizer (The Vanishing) edited what he had into a finished product.
A surreal tale about a couple (Judy Davis and Jonathan Pryce) who encounter a troubled young man (Phoenix) while on a desert honeymoon, Dark Blood became a point of contention between Sluizer and the Phoenix family after the actor's death. Sluizer's solution for Phoenix's scenes that remained unfilmed was simple: he just narrated what would've happened.
While the finished product was shown at a handful of festivals, and received warm reviews, it still hasn't been released to a wider audience. Sadly, Sluizer passed away in 2012 and the Phoenix family isn't on board with the film's release, so it's anyone's guess when it will be shown again.
---
2. Hippie Hippie Shake
Cillian Murphy and Sienna Miller fronted this look at the swinging '60s in London. Based on the true story of the "psychedelic hippy" magazine Oz getting charged with obscenity, the film received good reviews, but was shelved after Sienna Miler found herself in the eye of a bad press storm, due to an affair with the married actor Balthazar Getty. Oddly, while the actress weathered the storm, the film has yet to be released.
---
3. The Fantastic Four
With a new Fantastic Four movie about to hit theaters, it's important to remember the dark days of the film franchise.
In the early 1990s, Marvel movies didn't have the cache they enjoy now. Producer Bernd Eichinger owned the film rights to Reed Richards, Ben Grimm, et al., but couldn't get a film off the ground with the major studios. Due to a clause in his contract, he had to produce a movie quickly in order to retain the rights to the property. Desperate, he reached out to schlock producer Roger Corman, who knocked a movie out in a few weeks. The cast showed off clips at the San Diego Comic Con and the film was set to premiere at the Mall of America in January of 1994.
With the rights retained, Eichinger outdid Doctor Doom himself, and buried the film. Turns out he never intended to release the film at all, and never informed the cast and crew of his diabolical plan. But bootleg copies of the film — which contains some delightfully wooden acting and seriously dated special effects — circulated at fan conventions and became a cult classic among fans of Marvel's failed attempts at cinematic glory.
---
4. The Other Side of the Wind
Orson Welles is sort of the granddaddy of unreleased masterpieces. The Deep, a thriller plagued by bad weather and the death of the lead actor, never saw the light of day. The Magnificent Ambersons, based on the Pulitzer Prize-winning book, was taken away from him in post-production, taking decades for his cut to be released.
But of all the unrealized projects from the great Orson Welles, none intrigues us as much as The Other Side of the Wind, a black-and-white mockumentary about Hollywood that took six years to shoot, and spent decades being fought over in court. Finishing the film is now in the hands of crowdfunding, with a million dollar goal to finish a cut.
---
5. Don's Plum
While this film has seen a limited release in Europe, it will never see the light of day stateside. For that you can thank/blame Leonardo DiCaprio and Tobey Maguire, two of the biggest stars in Hollywood. When Jack Dawson and Spider-Man want to shut a movie down, they shut that sh*t down.
The story behind this movie's failure is simple, if sad. The two actors starred in it as a favor to their filmmaker friend, R.D. Robb. (You might remember him as Schwartz from A Christmas Story.) This was back in the days when DiCaprio and the then up-and-coming Pleasantville star rolled together in the very Entourage-like crew tastefully known as "The P—y Posse," which explains why the film feels like the equivalent of hanging out with a bunch of rich Hollywood douchebags. The cast also included Rilo Kiley's Jenny Lewis, Amber Benson, Jeremy Sisto and (of course) future Entourage-er Kevin Connolly.
According to the stars, the movie was supposed to be a short, and make the festival rounds, but Robb turned it into a feature and started seeking distribution. DiCaprio, who was coming off of Titanic at the time, didn't want it released. Why? Well, rumors circulated that DiCaprio got naked and engaged in bisexual sex in the film, but that turned out to be a lie. Sadly, the movie simply sucked, or at least DiCaprio and Maguire thought it did. They sued the filmmaker into oblivion, losing a friend in the process. Hopefully the pile of supermodels DiCaprio is buried under right now can help cheer him up.
---
6. Glitterati
While filming the adaptation of Bret Easton Ellis' The Rules of Attraction, director Roger Avary spent weeks in Europe with star Kip Pardue, shooting over 70 hours of video for a short sequence in the movie. He eventually assembled the footage into its own film, called Glitterati, which he hoped would act as a bridge to a planned adaptation of Ellis' 1998 novel Glamorama.
Due to some legal questions marks, and what Ellis himself describes as the dubious ethics of releasing a film that's basically hours of Pardue in character, picking up women, without them even knowing they were in a movie, the film has never been released, and the planned sequel never realized.
---
7. The Brave
If you thought The Lone Ranger was the first time Johnny Depp awkwardly played a Native American on film, have we got a story for you.
Depp may be one of the biggest stars in the world now, but there was a time when he specialized in the type of unique, avant-garde projects that struggled to find an audience, or even get released. The Brave, based on a novel by Fletch novelist Gregory Mcdonald, told the story of a young Native American man who accepts an offer to die in a snuff film in order to make money for his struggling family. This was a passion project for Depp, who co-wrote and directed the project, and even roped in friend Marlon Brando for a cameo. Sadly, reviews from the 1997 Cannes Film Festival were mixed, and the film never saw the light of day in the U.S.
---
8. Humor Risk
The first film to star The Marx Brothers, Humor Risk has sat on the shelf for almost as long as movies have been around. Shot around 1920 between performances on a vaudeville stage, the short film was shown exactly one time. Rumors have circulated that The Marx Brothers were so unhappy with the movie they either burned the print, or left it behind in a projector booth, never to retrieve it. With a solid 95 years since its last showing, we're guessing this one is lost to the ages.
---
9. Nothing Lasts Forever
This odd outing, which never saw a theatrical release, came from the mind of Saturday Night Live's resident filmmaker Tom Schiller. After years of churning out shorts during SNL's early years (you might remember his classics Don't Look Back in Anger and La Dolce Gilda), Schiller made a movie that truly defies description.
Taking place in an alternate universe New York City, where everything has the feel of a 1930s musical, the partially black-and-white film is an homage to classic cinema that proved too strange for MGM to release. But it occasionally screened at repertory theaters over the years and earned a cult following thanks to cameos from Bill Murray, Dan Aykroyd, Calvert DeForest and other comedy favorites. Rumor has it that John Belushi was supposed to cameo, but died six weeks before filming. The film finally saw the light of day earlier this year, for a one-night only viewing on Turner Classic Movies.
---
10. The Day the Clown Cried
The big bopper of unreleased movies, this film has taken on legendary status thanks to its disturbing subject matter and wildly inappropriate star.
The story of a circus clown who leads Jewish children into the gas chamber during the Holocaust, director and star Jerry Lewis completed the entire film before realizing what a horrible mistake it was. Rumor has it he locked it in a private vault, and refuses to even reference it in interviews. The Simpsons star Harry Shearer is one of the few to have actually seen the movie, and says, "this was a perfect object. This movie is so drastically wrong, its pathos and its comedy are so wildly misplaced, that you could not, in your fantasy of what it might be like, improve on what it really is."
---
The Spoils Before Dying concludes tonight at 9p with back-to-back episodes.
Also, catch The Spoils Before Dying Marathon (all six episodes!) immediately after the finale at 10p tonight and Sat, July 11 starting at 9:45a.