10 Detective Comedies You Seriously Need to Watch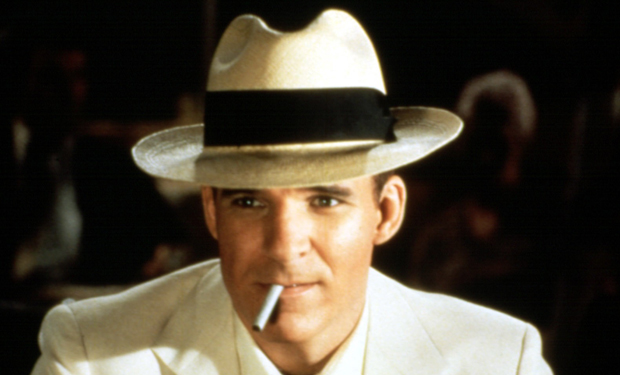 Posted by Mike Schuster on
As we gear up for the July 8th premiere of The Spoils Before Dying, our minds have gravitated toward the movies and TV shows that turned the hardboiled detective drama on its ear. From subtle satires to broad parodies, there are countless worthy send-ups of pulp procedurals and whodunits filled with wisecracking leads, nutty red herrings, and goofy double-crosses. And because the genre mockery is so vast, invariably there will be overlooked gems amongst their more well-known counterparts.
So if you're a fan of the genre, or just on the lookout for an obscure laffer, here are 10 must-watch detective comedies that you might have missed.
10. Murder by Death, for those who like Clue
Nearly a decade before the loopy adaptation of everyone's favorite blunt trauma board game, Neil Simon penned a spoof of Agatha Christie's And Then There Were None. Starring esteemed actors like Peter Sellers, Maggie Smith, David Niven, and Peter Falk as thinly veiled analogs to famous sleuths, this parody is a must-see for fans of objectionable characters being picked off one by one in a creepy mansion.
---
9. Dead Men Don't Wear Plaid, for those who like The Pink Panther

Few bumbling detectives measure up to Peter Sellers as Inspector Clouseau in the 1963 comedy classic The Pink Panther — and that includes Steve Martin in the 2006 remake. However, Martin played the goofy gumshoe to the hilt in Carl Reiner's Dead Men Don't Wear Plaid wherein 18 classic noir films are spliced into the narrative and act as fodder for Martin and his co-stars to play off of. It's Steve Martin in his prime leading a whacked-out premise, i.e. an instant classic.
---
8. Black Dynamite, for those who like Pootie Tang

With all due respect to Louis CK as a film auteur, the elements that worked as a Chris Rock Show sketch never came together in his 2001 blaxploitation misfire Pootie Tang. But simultaneously honoring and skewering the super-'70s genre, Black Dynamite worked in all the ways Pootie didn't. Authentic down to the era, swagger, and 16mm film stock, this spoof expertly mines its sources for humor both broad and obscure.
---
7. Police Squad!, for those who like The Naked Gun

Criminally canceled after only six episodes, the Zucker-Abrahams-Zucker gag-heavy series Police Squad! first introduced us to dimwitted cop Frank Drebin, a role that couldn't be played by anyone but Leslie Nielsen. Although the show's premise, characters, and many of the jokes were resurrected for the Naked Gun film franchise, there's a certain nostalgic charm to the original 1982 show that remains timeless even 33 years later.
---
6. Burn After Reading, for those who like The Big Lebowski

Not a detective comedy in the strictest sense, the Coen Brothers' cult classic The Big Lebowski was nevertheless inspired by Raymond Chandler's crime novel The Big Sleep through a filter of weed and bowling. Similarly, the Coens' Burn After Reading extracted the espionage and intrigue from spy mysteries and injected them into a shaggy dog plot featuring off-the-wall characters and twists out of left field.
---
5. Action Family, for those who like Eagleheart

Defining surreal comedy before many of today's comedy stars were even born, Chris Elliott's most recent venture Eagleheart was Adult Swim's answer to Justified. But Elliott skewered the detective drama and cheesy family sitcoms decades earlier in the Cinemax one-shot Action Family. In it, Elliott played both a hard-nosed detective and hapless dad in a 30-minute special that combined canned laughter and gruesome murder in one hilarious package.
---
4. Andy Barker, P.I., for those who like Monk

Detective series often employ leads that would be ill-suited for sleuthing if it weren't for their canny skills in getting their man. And while Tony Shalhoub in Monk actively chose the world of private investigation, Andy Richter didn't have much of a choice in Andy Barker, P.I. Mistaken for a detective due to a change in office space, Barker uses his accounting expertise to make ends meet as a crime-solver.
---
3. Kolchak: The Night Stalker, for those who like The X-Files

Although it was ostensibly a drama, Chris Carter's X-Files was much funnier than its premise and storylines dictated, and much of that was owed to another supernaturally driven series, Kolchak: The Night Stalker. Starring A Christmas Story's Darrin McGavin as an investigative newspaper reporter, the series not only inspired the "Monster of the Week" episodes of X-Files and Buffy, it did so with a heavy dose of humor and charm.
---
2. Kiss Kiss Bang Bang, for those who like Lethal Weapon

Screenwriter Shane Black was barely out of college when he sold Lethal Weapon to producer Joel Silver, infusing the dialogue with witty repartee and further establishing the buddy-cop genre. Nearly 20 years later, Black upended the tropes he helped define, while also mocking the Hollywood machine and meta-filmmaking, for the detective comedy Kiss Kiss Bang Bang. Starring a never-better Val Kilmer and Robert Downey, Jr., the movie is a smart and uniquely funny neo-noir that picks on the right people.
---
1. Lookwell, for those who like Columbo

It's impossible to imagine anyone but Peter Falk in the role of Columbo. Masking his deductive reasoning with affable chattiness, the detective usually has the case solved from the very first perp meet. Likewise, Lookwell couldn't exist without Adam West, but his deduction skills are anything but masterful. In the role he was born to play, West is a former TV detective solving crimes in his spare time (he has a lot of it, he warns). Sadly, the pilot is West's only turn as Lookwell, but in just 22 minutes, he has us all pining for six seasons and a movie.