Spoils Before Dying Author Eric Jonrosh Opens Up About Banned Books and Playboy Bunnies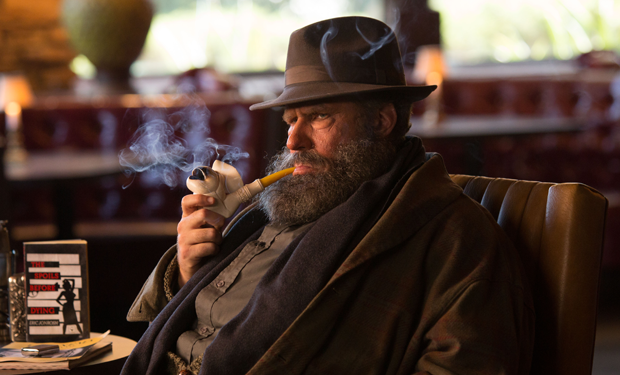 Posted by Melissa Locker on
The Spoils Before Dying was the book the government didn't want you to read.
The sultry pulp-noir murder mystery was banned in 73 countries and burned in even more, was thought lost to the ruins of time and the small-mindedness of man, but one copy remained. Starting on July 8 at 9p, writer-turned-director Eric Jonrosh (Will Ferrell) will bring his masterpiece The Spoils Before Dying to IFC, kicking off an epic three-night event.
The epic tale of sin and lust bubbling beneath the Los Angeles 1950s jazz scene, will transport viewers into the gritty underbelly of the music world through Jonrosh's words and the skills of stars Michael Kenneth Williams, Kristen Wiig, Maya Rudolph, Tim Meadows, Haley Joel Osment, Michael Sheen and more.
To help prepare the world for the wonders of his masterwork, Jonrosh opened up to Playboy about love, lust, jazz and The Spoils Before Dying:
PLAYBOY: Where have you been all these years?
JONROSH: In Hollywood mostly. I keep a low profile—not like my younger days when I seemed to make it into the gossip rags every time I got into a car or a young starlet. [Chuckles.] Now I'm confined to a few semi-welcoming watering holes and the guesthouse of an old lover. I get out for a steak or a lobster or a plate of eggs, but for the most part I park myself at my favorite booth in Billingsley's, drink the house wine and wait for the wine to run out or my heart to stop, whichever comes first.
PLAYBOY: Are you excited about the release of your long lost masterpiece, The Spoils Before Dying?
JONROSH: I am. I really am. It was banned in 73 countries, you know. You have to remember this was the late '50s and Americans were even more idiotic than they are today. After the war, people feared everything, and that fear level drove people insane. The Communists, the homosexuals, the drug addicts and jazz musicians—America feared them all. Fear led to repression and repression is the enemy of art. Thus the film of my novel The Spoils Before Dying was pulled before it was ever seen. All copies were destroyed and I was brought before Congress to defend the book and the film.
PLAYBOY: How did that go?
JONROSH: I was exiled to Europe for 15 years. It went splendidly.
PLAYBOY: What's the film about?
JONROSH: A jazz musician is accused of murdering his old girlfriend and he has three days to clear his name. It's a pretty simple mystery really. The best stories are simple. I fool around a bit with the genre. I was always a bit of a showman. I play with the conventions. It's not really done anymore but I challenge the viewer. Not like today. Filmmakers today serve up nothing but chocolate Johnnycakes and cotton candy. Old Eric likes to throw a handful of flies into their complacent soup and let them eat that.
PLAYBOY: The Spoils Before Dying covers a wide range of subjects: homosexuality, commercialism vs. art, drugs, sex and racial equality. Do you now see why this movie was banned in 1958?
JONROSH: Did I understand why some people thought it was too dangerous for the American public? Sure. Did I agree with those people? I was blacklisted. I couldn't direct a cat food commercial… well, that's not true, I was hired to direct a cat food commercial. I stole the money and shot Hard Ride the Spoils in New Mexico in eight days, a motorcycle picture with lots of action and lots of big-breasted women shot in the style of Ozu. It flopped. The cat food company was furious. [Laughs.]
PLAYBOY: You never really played the Hollywood game.
JONROSH: No sir, I did not. For that reason I was forced to finance most of my films myself. I wrote them. I directed them. Hair and makeup, effects, stunts? All me. Remarkable really. I suspect if I had learned to play the game a little better I wouldn't be living in a guest house miles from the nearest glass of Beaujolais.
PLAYBOY: In The Spoils of Babylon you used a mannequin as a main character. Will we be seeing more mannequins in The Spoils Before Dying?
JONROSH: I cast the best person for the part. If that person is a lifeless hunk of plastic then so be it. That lifeless hunk of plastic could act circles around most of the talent in this town. But, yes, she does make a brief appearance.
PLAYBOY: What's next?
JONROSH: I'm to be interviewed by PLAYBOY this afternoon.
PLAYBOY: Um, yes? Are you familiar with PLAYBOY?
JONROSH: Don't be an idiot. I dated Bunnies in the '60s. I was a Key Club member. In those days they had clubs, Chicago, New York, Des Moines, Kansas City, all over. I basically lived in the Lake Geneva, Wisconsin Playboy Club from '72 to '74.
PLAYBOY: Thank you, Mr. Jonrosh.
JONROSH: What? Hey, wait a sec. There's no wine with this meal?
PLAYBOY: I'm sorry this isn't a meal.
JONROSH: Come on, guy. Seriously? No wine? Who are you? The junior varsity version of a man? Okay… can I get a ride somewhere?
---
The Spoils Before Dying premieres on IFC on Wednesday, July 8 at 9p. Watch the trailer below:

video player loading
.
.
.