The Birthday Boys: "Molly Ringwald" Recaps "Going All the Way"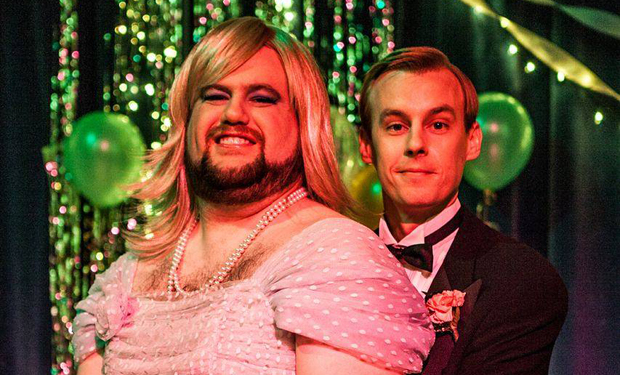 Posted by FIX Staff on
By Celebrity Recapper Molly Ringwald
Hello! I'm Hollywood celebrity Molly Ringwald. The Birthday Boys asked me to recap episode nine of their show. I'm not exactly sure why they asked me. I've actually never heard of these guys let alone met them… Maybe I'll understand why they asked me as I watch and recap the episode! Anyway, here it goes!
The episode starts off with a bunch of high schoolers trying to lose their virginity the day of graduation. Hmmm… Maybe The Birthday Boys thought since I used to star in a bunch of movies that take place in high school that it would be appropriate for me to recap this episode? I don't know though. That's a pretty weak connection.
Next, we have a piece about how the modern family continues to change. A family can consist of just ten dads. This made me smile. That's why these guys asked me to recap this episode! Family is really important to me… but how would they know that?
Alright, now there's a scene about sketch artists. In my free time, I love painting. But that's something only really close friends know about me, and I don't even know or like The Birthday Boys. Creepy. Why did they ask me to do this???
Okay… There's a sketch about the creators of Coca Cola. Coke is known for having a red can and I'm known for having red hair. This is, hands down, the strongest connection I've had to this show so far. I think this is why these guys asked me to recap!
Never mind. Back to the sketch artists. Do The Birthday Boys even know who I am? Why are they doing this to me??
Oh wait… The last sketch is about a Dad that goes to prom with his son. It's loosely based on my movie Pretty in Pink. That's why they asked me??! Those idiots. This sketch is gross. It didn't make me laugh once. A Dad goes down on his son. What the fuck?? The Birthday Boys wasted my fucking time! I'm a Hollywood celebrity God damn it!!!! This can't be why they asked me to do this…. Right? No… That can't be it. It's gotta be cause of the Coke sketch. That's why! Don't forget, the Coke can is red just like my hair!