The Birthday Boys: Mike Recaps "Skewered"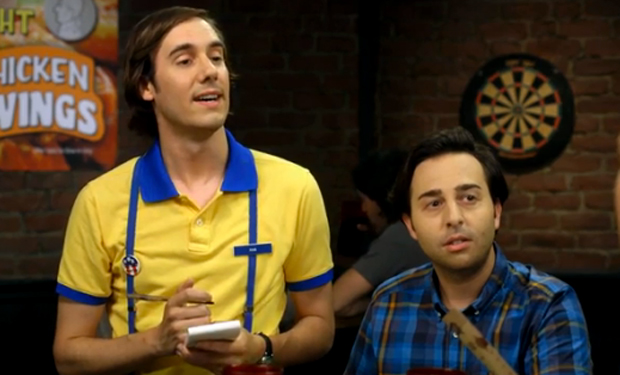 Posted by IFC on
By Mike Hanford
When I sat down to write the recap of The Birthday Boys Episode 7 entitled Skewered! I couldn't help but think of how much it resembles a football game. No, I'm serious! Take a look and you'll know EXACTLY what I mean.
First, the episode "kicks off" with a sketch about a gang of frustrated Wall Street stockbrokers. The Birthday Boys then "advance down the field" with a sketch that takes place in an uncomfortable Southern courtroom complete with era-appropriate "jerseys" (or costumes). That sketch "tackles" its way into a short piece about a man pondering a potential reality. This serves as a "runner" throughout the show. The Birthday Boys then take a "TV Time Out" and go to "commercial."
We're back and the "football action" is really heating up with sketch that holds a magnifying glass up to the state of television that's over-crowded with channels. Crowded? Like a football stadium? YES!
Whoops. There's a "flag on the play" but don't worry. It's a good thing! It means The Birthday Boys do a sketch about the forefathers of aviation. The show then "rushes for a gain of 8 yards, gaining a first down and are now in field goal range." By that, I of course mean The Birthday Boys do the second beat of the sketch about pondering a potential reality.
The episode "huddles up" in a sketch about a pioneer in the world of sound effects. In the final "march towards the goal line," the show pulls out a "Statue of Liberty play" with sketches about silly restaurant appetizer names, a commercial for a less-than practical airline, and an interview with an extremely old man.
It's a fun show! One might even say it's a "home run" of an episode. 😉