The Birthday Boys: Matt Recaps "Cool Machine"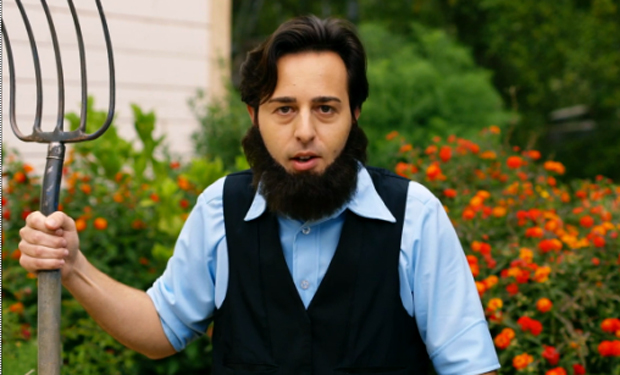 Posted by IFC on
by Matt Kowalick
The Birthday Boys episode 5, "Cool Machine," is like ABC's TGIF line-up, The Wide Wide World of Sports, MTV and Disney's Sunday Night at the Movies, mixed all into one. So it's like a whole weekend of TV watching crammed into 30 hilarious minutes. So it's funny and efficient. Think of what you'll do with all the time you save from watching TV all weekend by just watching The Birthday Boys' episode, COOL MACHINE.
Save hours of sports watching by watching the first sketch, "Super Amish." A sketch about Zook, an Amish athlete who turns to steroids and ends up turning his back on his people in the process.
HOURS SAVED: 12
Use that time to re-mulch your flowerbeds .
Instead of watching ABC's TGIF line-up, watch the story of the Cool Machine – a machine that turns a few of the Birthday Boys into "cool" version of themselves. See what changes Jeff's Family Matters-inspired invention brings to the unsuspecting Birthday Boys and how their lives and worldviews are changed forever.
HOURS SAVED: 2
Use that time to re-watch the previous 4 episodes of The Birthday Boys.
Instead of watching music videos all weekend, see what happens to a band when their modern music video is hijacked by a drummer who has a knack for Keeping The Beat.
HOURS SAVED: 14
Use that time to start a band with your neighbors or kids.
Instead of spending hours doing all the chores on your To Do list, Watch the "I Can't Do This" part 1, 2 and 3.
HOURS SAVED: Untold
Use this time to avoid more responsibilities.
Instead of watching an old movie syndicated for television, see the story of a Contraption that comes to town and fails to impress any of the town folk.
HOURS SAVED: 2
Use that time to invent your own contraption.
And if you were thinking of going to your high school reunion this weekend, you can save yourself the time and trouble (and embarrassment) by seeing what happens when a Birthday Boy brings his wife, Tia Carrere, to his high school reunion.
HOURS SAVED: 6
Use this time to actually accomplish something you can brag about at your next high school reunion.