The Birthday Boys: Mike Recaps "Goofy Roofers"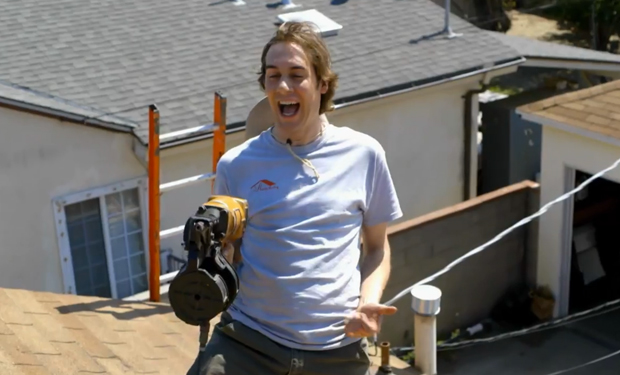 Posted by IFC on
By Mike Hanford
Not a lot of people know this about me but I love taking vacations. LOVE it. I'm on one right now as a matter of fact. I'm typing this recap from a hammock, swaying in the breeze, listening to the tepid waters of the Pacific lap against this black sands of this all but deserted Tahitian beach. My troubles are miles away, not a care in the world. Sounds nice, huh?
But you didn't come here to hear about my relaxing vay-cay. (Which I got for a STEAL online. All-inclusive, flight, airfare, meals, everything for only 600 bucks. INSANE right?!) You came here for a recap of The Birthday Boys second episode "Goofy Roofers." And that's cool too.
So, this episode is chock-full of fun. First off, there's a sketch about some roofers who are a little "nutty" to say the least. Then we have a piece about a rapper spouting off about the state of the union. Before I continue, I have to mention the flight I took over here. First class. Roundtrip. No layovers. That doin' anything for ya?! Honestly, I don't know how I scored this deal. I really don't! I guess I was just in the right place at the right time. I know what you're thinking. "No way you got a first class flight included in that $600 online deal!" Oh yeah? Then where did I get all the hot towels, bub? Dang I'm lucky! Anyway, to get back on track, Episode 2 also had a sketch about a group of guys chit-chatting about the types of women they are attracted to. Amazing stuff! I'm referring of course to the travel deals I scored. The sketches were good too but nowhere close to these deals, baby!
The episode also had sketches about two buds on a road trip and a dean dealing with a rowdy frat. But what I REALLY liked about this episode wasn't a sketch at all. And It wasn't even in this episode. It was the complimentary surf lesson the hotel sprung on me when I checked in yesterday! I used the free lesson coupon today and boy did I have a blast. Now, I've never set foot on a surfboard but my instructors, Jason and Kelly (They're taking a semester off to teach surfing in Tahiti. Not important. Also, I think they might be dating? Also, not important) were really helpful. By the end of the day I was cruising in on 3 footers. They both said I was a natural!
Hey, can I be honest with you? My heart's really not in this recap at the moment. I'm sitting here, watching this impossibly orange sun melt into the liquid horizon and my mind is drifting this way and that. Having a tough time focusing on this recap… sorry.
But I'll end with this. If you haven't seen Episode 2 of The Birthday Boys titled "Goofy Roofers," go watch it. And if you HAVE seen it, go take a vacation. They're great!
Now if you'll excuse me, I'm goin' for a skinny dip!