Watch as Bob Odenkirk and The Birthday Boys accept IFC's offer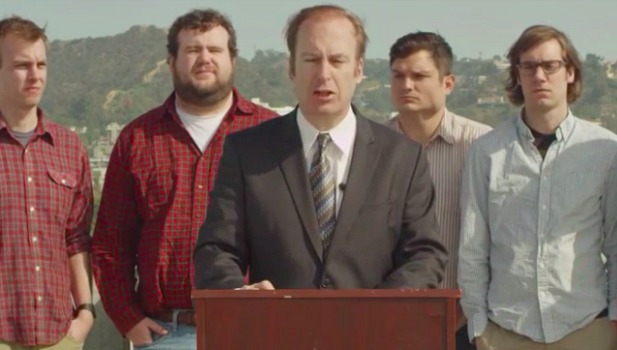 Posted by Melissa Locker on
Bob Odenkirk may not be a real lawyer, but he plays a great one on TV, on "Breaking Bad," specifically. So when the Birthday Boys needed someone to formally accept the terms of our offer to broadcast ten episodes of their new sketch comedy show, "The Birthday Boys," obviously they went straight for Saul …er, Bob Odenkirk.
The choice of representative makes even more sense, because Odenkirk is the executive producer of the new scripted sketch comedy, along with Ben Stiller. The Birthday Boys features the Los Angeles comedy group of the same name (UCB Theatre Los Angeles, Just for Laughs Festival) along with Odenkirk. The series is in the classic vein of absurd/silly/smart/funny variety shows (Mr. Show, Monty Python), featuring sketches that twist real-life moments and cultural touchstones.
"The Birthday Boys are too good to just be making viral videos. They are funny enough to fill time between episodes of Portlandia," said Ben Stiller. "I'm thrilled to be working with Bob Odenkirk again on a TV project. We try to do something every 20 years or so." Added Bob Odenkirk, "The Birthday Boys are a super funny and fresh new comic voice. I will try not to slow them down."
The Birthday Boys comedy group includes Jefferson Dutton, Dave Ferguson, Mike Hanford, Tim Kalpakis, Matt Kowalick, Mike Mitchell and Chris VanArtsdalen—whose combined credits include "Parks and Recreation", "The Office," "Conan," "Comedy Bang! Bang!", and "Portlandia." The series is written and co-directed by The Birthday Boys and Bob Odenkirk and with that much talent involved there's no way the show won't be laugh-out-loud funny and fit right in with our ever-growing line-up of "Always On, Slightly Off" programming.
Watch as Bob Odenkirk announces the terms of The Birthday Boys' agreement:
Want the latest news from IFC? Like us on Facebook and follow us on Twitter @IFC
"The Birthday Boys" premiere on IFC this fall