10 John C. McGinley Roles We Love
John C. McGinley comes to IFC in Stan Against Evil starting November 2nd at 10P.
Posted by Brian Steele on
Photo Credit: 20th Century Fox
With a career that spans theater, film and countless insults directed towards Zach Braff on Scrubs, John C. McGinley is one of those actors who makes everything he touches better. From a surly cop in Point Break to one of the Bobs in Office Space, McGinley has put his own unique spin on some truly memorable roles.
Starting November 2nd at 10P on IFC, you'll get to see John as the demon hunting curmudgeon Stan Miller on Stan Against Evil, the new horror comedy from the folks behind The Simpsons and The Walking Dead. To see how he got here, we thought we'd look back at a few of his best parts, from hunting Oscar winners to emasculating Zach Braff.
10. Burn Notice, Tom Card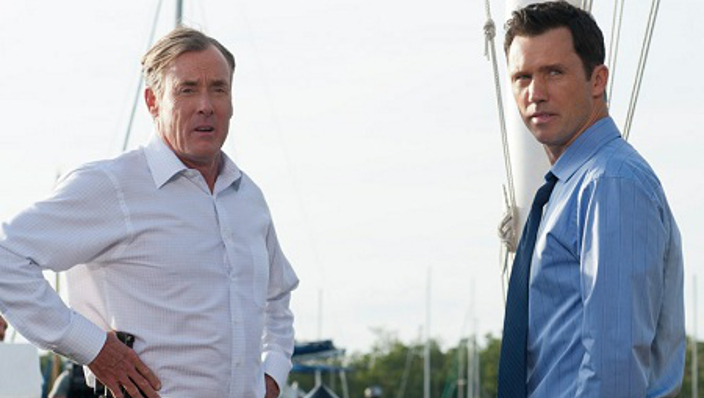 USA Network
When it came time to introduce the man who trained superspy Michael Westen (Jeffrey Donovan), there was only one actor with the machismo chops to make it believable. Tom Card would go on to betray his former protégé, setting up a showdown that ended with one of them in the ground. (Clearly characters are only welcome for so long on USA.) A fun, pulpy part for McGinley to really chew into, Tom Card would be a dramatic return to form for the actor after a decade on Scrubs.
---
9. Point Break, Ben Harp

20th Century Fox
Every cop movie needs an exacerbated commanding officer at his wits' end with the loose cannon on his force. McGinley took on this trope in Point Break, delivering a few shining moments in the action classic. This wasn't the showiest of roles, but who among us hasn't wanted to chew out Keanu Reeves and Gary Busey at some point? For one shining moment, McGinley got to live that dream.
---
8. 42, Red Barber

Warner Bros.
McGinley is such a baseball fanatic that when he realized his neighbor, Brian Helgeland, was directing a movie about Jackie Robinson, he simply knocked on his door and asked to play legendary announcer Red Barber. Helgeland, amused that his friend was asking for a part instead of a cup of sugar, gave him a week to perfect the announcer's distinctive voice. When McGinley nailed it, he was given the part on the spot. And if you watch the movie, you'd be hard-pressed to pick someone who could have done it any better.
---
7. Se7en, California

New Line Cinema
McGinley is a rare actor who can play both the everyman and the macho killing machine. In the David Fincher classic Se7en, McGinley got to go full SWAT on us, as a no-nonsense cop determined to take down serial killer John Doe (Kevin Spacey). Sure, he would fail, playing right into the psychopath's hands, but boy did he look like a badass doing it.
---
6. Any Given Sunday, Jack Rose

Warner Bros.
Inspired by "love him or hate him" sports show host Jim Rome, McGinley played the snarky mouth of the sports world, constantly chipping away at Al Pacino's head coach Tony D'Amato, until he snapped and attacked him. Mixing the dorkiness and bravado of the modern sports talk world to perfection, McGinley nails the nails on the chalkboard side of sports fandom.
---
5. Talk Radio, Stu

Universal Studios
Having played the part on stage at the legendary Public Theater, McGinley was the first and only choice to play Stu, the talk radio engineer who worked with, admired and resented Eric Bogosian's caustic radio host. In a grounded movie filled with crackling dialogue, McGinley was a standout from the small ensemble.
---
4. Wall Street, Marvin

20th Century Fox
Oliver Stone's classic dissection of 1980s greed gave McGinley one of his most memorable parts. Wall Street famously picked apart the decade that gave us Donald Trump, looking at the strivers who would do anything to take part in those cocaine parties and caviar dreams. Some made it to the top, like Gordon Gecko (Michael Douglas), and some were left to fight for scraps, like poor Marvin. McGinley was a perfect fit for the stock slinger whose ego just wasn't big enough, and whose morals were too pronounced to let him grasp the brass ring.
---
3. Platoon, Sgt. O'Neill

Orion Pictures
Stone gave McGinley his big break in this classic war movie. Cast as the fast talking, fun-loving sergeant who finally snaps, desperate to get out of this hellish war alive, McGinley spent months in the swamps of the Philippines hoping the government would wait to be overthrown until the movie was finished.
---
2. Office Space, Bob Slydell

20th Century Fox
Desperate to just be in the movie, which McGinley described as one of the funniest scripts he'd ever read, he took the role of one of the two "Bobs," even though the parts had barely been written. Director Mike Judge promised the role would be fleshed out on set, and true to his word, the pair spent days coming up with what would become one of the most memorable scenes in the cult classic.
---
1. Scrubs, Dr. Perry Cox

ABC Studios
McGinley almost didn't get to play Dr. Cox — a character who, along with Dr. House, basically defined the modern version of the brilliant-but-surly doctor trope — even though the audition called for a "John C. McGinley type." He had to audition multiple times, proving that the life of a character actor is never easy. Caustic, causally cruel, but with a heart of gold, Dr. Cox was the emasculating medical savant we all hope will save our lives one day. Sure, J.D. (Zach Braff) had to put up with his fair share of abuse (and female nicknames), but in the end no one could deny that Cox was one-of-a-kind. A truly classic sitcom character if there ever was one, Dr. Cox was proof that McGinley is as equally adept at comedy as he is at searing drama.
Watch John C. McGinley fight demons in a clip from IFC's upcoming horror comedy Stan Against Evil!