10 Things You Need to Know About Janet Varney
Catch Janet Varney on Stan Against Evil premiering November 2nd at 10P with back-to-back episodes.
Posted by Brian Steele on
Janet Varney is about to go big time. She's been on our radar for years, always popping up on that show, Web series or podcast we couldn't get enough of. Now, Janet's about to star on Stan Against Evil, the new IFC horror comedy series from the folks behind The Simpsons and The Walking Dead. As a little homework, we thought we'd dig into this talented performer's past, and see what's helped make her such a star on the rise.
Bone up on all things Janet Varney below, and be sure to stay tuned to IFC.com for more Stan Against Evil news before the big premiere on November 2nd at 10P.
10. She's an Animation Voice Acting Superstar.

Nickelodeon Animation Studio
While Janet might be a new face to some folks, animation fans know she's been the voice behind some beloved animated characters. Probably best known for bringing the heroic Korra to life on The Legend of Korra, she's also provided her talents to shows and movies like Norm of the North, Sanjay and Craig and Dante's Inferno.
---
9. The San Francisco Sketchfest? She co-founded it.

SF Sketchfest
Now entering its 15th year, the SF Sketchfest started as an excuse by Varney, and friends David Owen and Cole Stratton, to give Bay Area comedians a place to perform. Over the years it has transformed into a comedy hotbed, with everyone from Zach Galifianakis to the original cast members of SNL taking part.
---
8. She's Been Known to Perform Old Time Radio Plays.
The Thrilling Adventure Hour is a stage show and podcast that performs in the style of the radio plays of yore. Varney began as a guest, popping up in numerous productions, until she finally just went ahead and joined the troupe. Some of the show's more notable regulars include Nathan Fillion, Comedy Bang! Bang! favorite Paul F. Tompkins and Linda Cardellini.
---
7. She Nailed a Classic Key & Peele Sketch.
Key & Peele was always at its best when deconstructing race in America. In this classic sketch, Janet Varney and comedian Natasha Leggero starred as two women who vacillated between the good and the bad of having preconceived notions about black people. Are stereotypes always racist? Can you use people's ignorance to your own advantage? Is it wrong to have sex with a racist girl? No, seriously, is it? Because Key and Peele would like to know.
---
6. She's Riffed Movies with the MST3K gang.

ColeStratton.com/Rifftrax
From the warped minds behind Mystery Science Theater 3000, RiffTrax Presents is a series where comedians are set loose on lousy movies, taking them down one sarcastic comment at a time. Varney, along with longtime collaborator Cole Stratton, are frequent guests on the show.
---
5. She claims June Diane Raphael is an Amazing Kisser.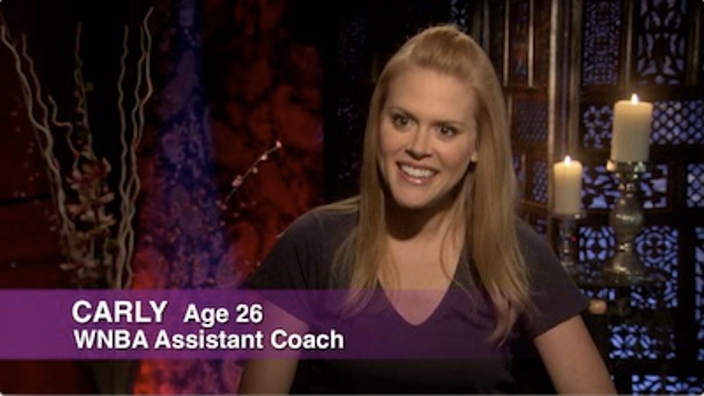 Yahoo! Studios
While doing an AMA on Reddit, Janet coughed up some juicy gossip. Varney was one of the stars of the Yahoo! series Burning Love, making it all the way to the end of the parody dating series. At one point, she was fortunate to lock lips with Mrs. Raphael, and gives the experience a big thumbs up.
---
4. Her Podcast The JV Club Perfectly Captures Our Awkward Years.

Nerdist
A renaissance woman if there ever was one, Varney curates her own art exhibition called Fleeting Immersion, writes music, and hosts her own podcast, The JV Club, on the Nerdist Network. A weekly look back at all of our awkward years, the show is consistently featured in The Onion's AV Club "Best Podcasts" lists. Guests from all areas of entertainment have stopped by to dish about their formative years, including Portlandia's own Carrie Brownstein.
---
3. She Had Puppet Dreams with Neil Patrick Harris.

Nerdist
Varney helped bring Neil and his partner David Burtka's puppet fantasies to life with the Web series Neil's Puppet Dreams. She raved about working on the Jim Henson Company series, telling Nerdist that "[Neil's Puppet Dreams is] my baby. I had a baby with two gay men and that's what came out."
---
2. Remember Dinner and a Movie? She Cohosted it!

TBS
What better way to enjoy a movie than with a delicious dinner inspired by a pun? From "Snow Coens" to "The Hippocratic Loaf" to "The Beets Go On," if there was an adorably corny food-related joke to mine, the good people behind Dinner and a Movie found it. Thankfully, that was far from the only reason to tune in. From 2005 to 2011, Janet got to stuff her face and flaunt her film knowledge as the host of the late night dinner party. Unfortunately, the show was canceled, but Varney says she's still extremely close with cohosts Paul Gilmartin and Claud Mann.
---
1. She Plays Becca on You're The Worst.

FX
Prior to signing on to fight demons in Stan Against Evil, Janet was channeling inner demons on the FX dysfunction-com You're the Worst. Her role as Becca, sister to Lindsay and Jimmy's ex, is both integral to the show (her wedding is where Jimmy meets Gretchen) and earned Varney rave reviews.
Check out Janet in a clip from Stan Against Evil below.