Carrie Brownstein Is Hitting the Road For the Hunger Makes Me a Modern Girl Book Tour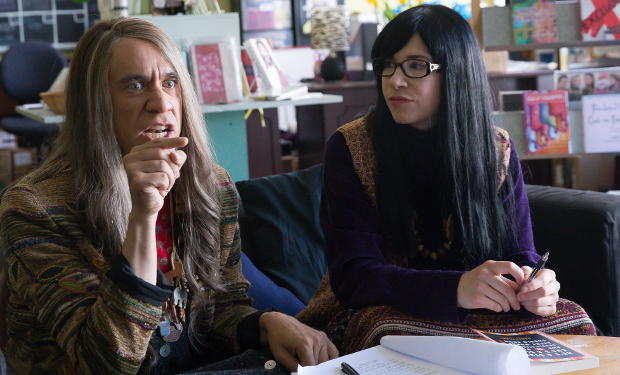 Posted by Melissa Locker on
Portlandia star and co-creator Carrie Brownstein is hitting the road and traveling to cities across the U.S. and Canada to talk about her new memoir, Hunger Makes Me A Modern Girl, out October 27th. (Pre-order it here!)
The tour also kicks off on October 27th, when Carrie will talk to Roots drummer Questlove in Brooklyn (a.k.a. the Portland of New York City) about her memoir, which documents her experiences growing up in the Pacific Northwest and starting the pioneering rock band Sleater-Kinney. 11 cities have been announced for the tour and Carrie will talk about the book with an exciting list of actors, comedians, critics, and musicians including Amy Poehler, her Transparent co-star Gaby Hoffman, SNL star Aidy Bryant and many more. She will answer audience questions, too, but please remember what happened with Paul Simon on Portlandia. You don't want to be like Kath and Dave.
If you haven't already pre-ordered the book, you'll get a signed copy of Hunger Makes Me A Modern Girl when you buy a ticket to see Carrie on her tour.
Check out the full list of tour dates and guests (yes, there's a stop in Portland) below. And click here for additional information and for links to each venue's ticket page.
BROOKLYN, NY – OCTOBER 27
WORD Bookstore at Saint Vitus Bar
In conversation with Questlove
NEW YORK, NY – OCTOBER 28
Barnes & Noble Union Square
In conversation with Gaby Hoffman
PHILADELPHIA, PA – OCTOBER 29
Philadelphia Free Library at The Merriam Theater
In conversation with Aidy Bryant
CHICAGO, IL – OCTOBER 30
Pitchfork at the Museum of Contemporary Art Chicago
In conversation with Jessica Hopper
AUSTIN, TX – NOVEMBER 1
BookPeople at Central Presbyterian Church
In conversation with Liz Lambert
LOS ANGELES, CA – NOVEMBER 3
Vroman's Bookstore at Pasadena Presbyterian
In conversation with Amy Poehler
SAN FRANCISCO, CA – NOVEMBER 4
Jewish Community Center of San Francisco
In conversation with Dave Eggers
PORTLAND, OR – NOVEMBER 5
Powell's Books at The Newmark Theatre
In conversation with a Special Guest TBA
SEATTLE, WA – NOVEMBER 6
Elliott Bay Book Company at The Neptune Theater
In conversation with Maria Semple
MONTREAL, CANADA – NOVEMBER 16
Drawn & Quarterly at The Rialto Theatre
In conversation with Jessica Hopper
TORONTO, CANADA – NOVEMBER 17
Toronto Public Library's Appel Salon
In conversation with Johanna Schneller