Fred Armisen Made Serious Journalists Twerk For Their Peabodys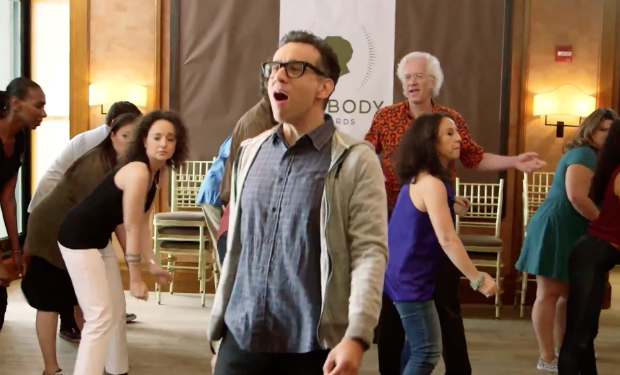 Posted by Nick Romano on
The Peabody Awards is a celebration of the nation's media elite, the men and women who give voices to the voiceless, the serious newspeople who write stories about Ebola in West Africa and the kidnapped Nigerian schoolgirls. These are hard-hitting topics, not light entertainment. But if there's anyone who's capable of transforming this awards ceremony into the People's Choice Awards show of journalism, it's Fred Armisen.
The Portlandia star hosted the 74th Annual Peabody Awards, which aired this past Sunday on Pivot. But what you might not have seen was the pre-show rehearsal. Armisen gathered together a group of journalists, like CNN's Nima Elbagir, Afropop's Sean Barlow and Sarah Koenig from the Serial podcast, to train them for a lavish musical number that would put the Oscars' opener to shame.
Watch it below.
These men and women weren't eager to perform in front of thousands of people, but Armisen convinced them to do it by citing music as the most important art form in the world. The dance was comprised of a bit of everything: interpretive dance, musical theater, something that imitated the movements of drunk people, a "hallucination from the evening," and a little Oprah. ("I'm giving the news to you and you and you and you…")
This would've been an incredible moment that would have set the Internet on fire, but, alas, it turns out that Armisen hears only what he wants to hear. The comedian found out from one of the show's producers that the opening was really just a monologue. You know, the kind where he just gets up on the stage to talk and make jokes. When this small detail was clarified for him, the journalists were, understandably, unenthused about wasting all this time gyrating their hips.
But look on the bright side, media members. It's incredibly entertaining for the rest of us.