What Do You Get When #TarantinoMeetsPortlandia?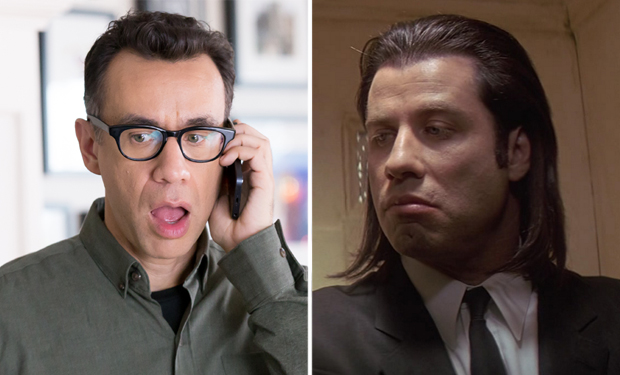 Posted by Cher Martinetti on
Pulp Fiction is tonight's lead-in movie before a brand new Portlandia, which got us thinking… What would it look like your crossed a Quentin Tarantino movie with Portlandia? To find the answer to such a poignant question, we turned to Twitter, and you guys did not disappoint. Here's our fave #TarantinoMeetsPortlandia tweets. Dunno about you guys, but we'd pretty much watch any of these.
@IFC @portlandia Kill Gluten

— OwlFever (@FreeRadical73) March 5, 2015
Bike Unchained #TarantinoMeetsPortlandia @IFC

— Super Alex (@_alexnation) March 5, 2015
Reservoir Dogpark #TarantinoMeetsPortlandia pic.twitter.com/NEtwGMZb4K

— Allison Wierema (@WhereMyWierema) March 5, 2015
@portlandia Candace Unchained #TarantinoMeetsPortlandia pic.twitter.com/Wyot52cH7l

— Breon (@TheBreonShow) March 5, 2015
Feminist Fiction. #TarantinoMeetsPortlandia

— Nano Novels (@NanoNovels) March 5, 2015
Natural Bike Killers #TarantinoMeetsPortlandia pic.twitter.com/NsGHrOZjTy

— Nicole (@OkayAckerman) March 5, 2015
@IFC @portlandia Djosh Unchained #TarantinoMeetsPortlandia pic.twitter.com/XWMGvNaQ93

— Bearclaw Morrison (@RobertTate1) March 5, 2015
@IFC Pickle Fiction #TarantinomeetsPortlandia

— Mike Silver (@tutorindie) March 5, 2015
@IFC Inglorious Brunchers #TarantinoMeetsPortlandia

— Kevin Latzman (@klatzman) March 5, 2015
Naturally Born Killers #TarantinomeetsPortlandia

— Dasher (@that_dash) March 5, 2015
@IFC @portlandia Mr. Pink in Death of a Celery Salesman #Buscemi #portlandia #TarantinoMeetsPortlandia

— Adam Robinson (@PopRockSpaceboi) March 5, 2015
Jack Rabbit Slim's, Home of the Locally-Sourced Organic Gluten-Free Five-Dollar Milkshake #TarantinoMeetsPortlandia

— Dreamweasel (@Dreamweasel) March 5, 2015
Kale Bill #TarantinoMeetsPortlandia @portlandia

— joe jaynes (@josephjaynes) March 5, 2015