Fred Armisen's 10 Funniest Weekend Update Characters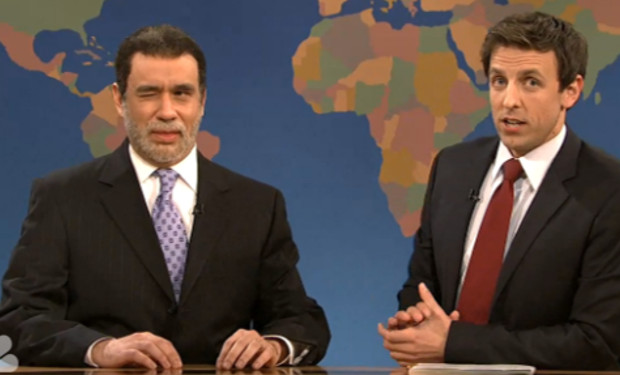 Posted by Brian Steele on
Seth Meyers will join his  Late Night bandleader Fred Armisen on the Portlandia season finale this week, but the two have a long history together of making us laugh. They first found their unique chemistry behind the Weekend Update desk on Saturday Night Live. Seth's bemused personality played perfectly off the parade of lunatics Fred brought to life. Here are a few of Fred, and occasionally Seth's, Weekend Update highlights.
10. Garth and Kat
No matter how many chances Seth gave them, Fred and Kristen Wiig's loveable loser characters Garth and Kat just couldn't get their act together. Making up songs on the spot, while empathically denying they were doing just that, these two became such fan favorites they were welcomed back for the show's 40th anniversary.
---
9. Nicholas Fehn
Aping on the comedy stylings of Mort Sahl, Nicholas would riff on newspaper headlines, without ever actually landing on a joke. Along with Garth and Kat, this character was clearly made up on the spot, and showed how brilliant Fred could be at seeming unprepared.
---
8. The Kelly Brothers
One of Fred's earliest appearances behind the desk, he and Will Forte played The Kelly Brothers, constitutional scholars who explained the arcane aspect of constitutional law through song, but never quite got to the point.
---
7. Native American Comic Billy Smith
Again going for an anti-laugh of sorts, Billy Smith was famous for punch lines that made no sense to anyone outside of the Native American community. Trust him though, "these jokes kill on the reservation."
---
6. Randall Meeks
"Weekend Update Tech Correspondent" Randal Meeks appeared just once, sharing how easy it was to use Google Glass. The only problem was, the darn thing never worked, leaving Randall in a constant panic as he flailed around, unable to even turn it off. The astute way Armisen picked apart the small, smug enclave who adopted this technology clearly predicts his work on Portlandia.
5. Best Friends Growing Up
Not a character, but a recurring bit, Fred and Vanessa Bayer played old friends to some of the world's worst dictators, including Gaddafi, Vladimir Putin and even King Richard the III. And honestly, they're really nice in person, even if they can be a bit cheap when it comes to tipping.
---
4. Deaf Comic Ritchie B
An early play on his stand-up comic with a gimmick routine, here a deaf comic has to rely on a black translator to impart his racist jokes. It stars Fred and Kenan Thompson, a duo we wish we had seen more of.
---
3. The Gay Couple From New Jersey
Romantic strolls through the streets of New Brunswick were the name of the game for these Sopranos-esque lovers, played by Fred and Bill Hader. They may make you an offer you can't refuse, but that's only because nobody can refuse a lovely weekend of antiquing in Vermont.
---
2. Steve Jobs
A character sadly retired for obvious reasons, Fred had fun making anything Jobs said…the…most…important…thing…in…the…world. Sure, Fred's Jobs flat out lied about the iPhone's capabilities, but who could refuse a phone with "150 kabillion contacts" and a clock?
---
1. New York Governor David Paterson
This accidental Governor didn't seem like the most obvious target when Fred Armisen debuted his impersonation in 2008, but the blind, baffled politician who hates New Jersey became one of his most popular characters. This bit was not without its critics, but was so beloved even Fred's departure from the show couldn't stop it, coming back in 2014 to help send Seth Meyers off in style.