10 Awkward Karaoke Scenes in Movies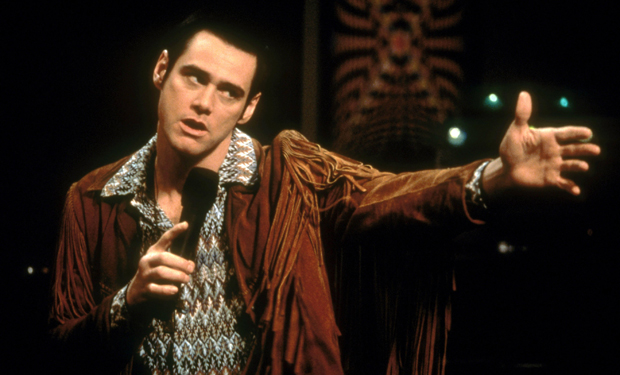 Posted by Nick Romano on
Karaoke is a two-way street. Though it may seem like the most mortifying experience to stumble through a rendition of Queen's "Bohemian Rhapsody." it's equally painful to be in the audience for. This week Portlandia will tackling this ancient art in a karaoke-themed episode, and we can only hope Fred Armisen and Carrie Brownstein don't fall victim to the slew of awkward musical moments that we've seen a number of times over.
There's a small sect of actors and actresses who have succumbed to the awkward karaoke scene on the big screen. It's pretty much an art in itself: how do you (a) sing poorly enough and (b) make enough triumphant fist pumps to make everyone watching as uncomfortable as possible? Perhaps we can learn a thing our two from these awkward karaoke movie moments.
10. House Bunny, "Like A Virgin"
Even without the evil, blonde sorority pranking these easy targets, the ladies of Zeta Alpha Zeta are hopeless when it comes to being cool and singing a decent karaoke jam worth a damn. "Like a Virgin" is already a bold choice, but these ladies just couldn't cut it either way. Sashay away, Emma Stone.
---
9. How To Lose A Guy In 10 Days, "You're So Vain"
There's nothing worse than losing your cool on stage during a high-end dinner event. Oh wait! Yes, there is. That would be doing so while you're dressed to the nines in a slim gown and screaming a Carly Simon classic through champagne-soaked vocal chords. Oh yeah, and your boss and your fake boyfriend's boss are witnessing the whole thing.
---
8. The Cable Guy, "Somebody To Love"
Jim Carrey's famous karaoke scene in The Cable Guy is both one of the most riveting and awkward examples of karaoke on the big screen. On the one hand, Carrey is spectacular as he throws his limbs and body all over the floor to entertain his guests, and kudos to his commitment to the bit! But that didn't stop some of us from giggling awkwardly as he started flailing and flaunting his vocal shakes like the love child of Grace Slick and Peabo Bryson.
---
7. I Still Know What You Did Last Summer, "I Will Survive"
"Everyone's a goddamn singer." Nancy, you couldn't be more right, but you're probably saying that because Jennifer Love Hewitt's karaoke rendition totally sounds like it was doctored. But you can't have an awkward karaoke moment without all of the bad acting that comes from the performer's friends.
---
6. Only God Forgives, "You're My Dream"
There are many aspects of the final karaoke scene in Only God Forgives that are unnerving. The stoic audience watching in silence, the variation of a creepy jack in the box melody, and…oh yeah, the fact that we just saw a battered Ryan Gosling lose his hands by the blade of a samurai sword.
5. Lost In Translation, "More Than This"
Scarlett Johansson knows how to work a stage, and her pink wig only works in her favor during her sassy rendition of "Brass in Pocket." We just wish Bill Murray brought at least some pep to his step when he was passed the mic. Granted, Bill's flat performance is perfectly in keeping with character's state of mind. As a karaoke moment, it was awkward as hell.
---
4. Boys Don't Cry, "The Bluest Eyes In Texas"
This right here is supposed to be a romantic interaction between Chloe Sevigny's Lana and Hilary Swank's Brandon, but all we hear are the gravely tones of these lost karaoke souls. These ladies need Whoopi to come in and transform these soft-mannered nuns into showboating Vegas headliners.
---
3. When Harry Met Sally, "Surrey with the Fringe on Top"
You gotta give it up for Harry and Sally for putting on a show in the middle of an electronics store, but we wouldn't want to be a fly on the wall during this moment. We don't blame Meg Ryan for latching onto the lyrics for dear life, especially since she wasn't the one who picked the song. Hopefully she remembered this for the future.
---
2. My Best Friends Wedding, "I Just Don't Know What To Do With Myself"
Cameron Diaz taught Julia Roberts and Dermot Mulroney a valuable lesson about karaoke etiquette: if someone doesn't want to get up in front of an entire bar and belt a tune, there might be reason for that. Not everyone can be the radiant star of the stage. If you try and force them, you come out with a trainwreck from which you simply cannot tear your eyes away, no matter how badly you wish you could avoid witnessing the destruction.
---
1. 40-Year-Old Virgin, "The First Time"
In a deleted scene from The 40-Year-Old Virgin, Steve Carell gets up on stage to sing his karaoke jam…which is from the Broadway musical Zorba the Greek. Here's the thing about singing Broadway during karaoke — don't do it! Unless you have the sparkling pipes of Adele Dazeem.