Fred and Carrie's Reddit AMA Is One for the History Books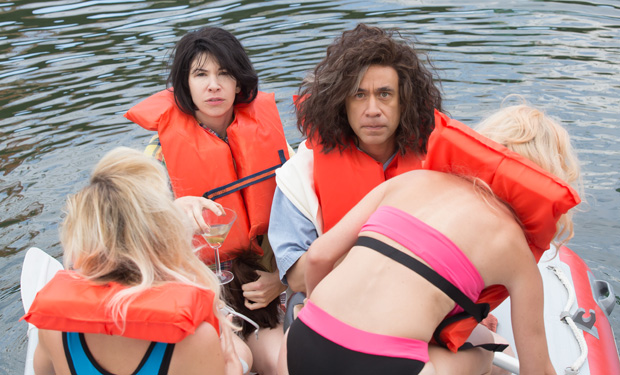 Posted by Melissa Locker on
Fred and Carrie went over to Reddit this morning to talk about the new season of Portlandia in one of the site's epic Q&A sessions. The AMA started out normally enough with people asking questions about the show, acting, and catchphrases, but quickly got weirder:
Do people yell cacao at you in the streets?

Fred: ALL. THE. TIME. It's actually very nice, very sweet. People will also post photos on instagram just saying Cacao. Like, all the time.

Carrie: It's true!
What would it take to get a Liz and Liz Publizity crossover with Toni and Candice at Women and Women First?

Carrie: We'd do it in a second! Toni & Candice want to do publicity for those guys.
Fred: Yeah, they would want to be their publicists.
Once I was in a high school play and I had the opening monologue. I forgot all of the words and it was awful. Has anything like that ever happened to either of you?

Fred: I was never asked to do a monologue at your school, so… But I'm open to doing it.
Will catnap be making a comeback this season?

Fred: No, they don't appear this season, but someday we'll do it again.
Carrie: In 10 years they'll do a reunion tour, and Sleater-Kinney will open.
If I saw you on the street and confessed my love for you, would it creep you out?

Carrie: If it involved bodily fluids, yes. Otherwise, no.
If Nina were to be proposed to by Lance, how would Nina prefer it to be done?

Fred: Coincidentally, this is something that happens in season 5. And I'll just say that it's all about… making a video of a proposal.
If you had to be neighbors with one or two of the show's characters, who would you like to be neighbors with and why?

Carrie: I'd like to be neighbors with Cath & Dave so that… they could criticize the paint on my house and the quality of my fence and we could argue with heated yard signs.
Who do you think is the sexiest Trailblazer?

Fred: Robin Lopez.
Carrie: I agree with Fred. Robin Lopez.
Then things got a little weird:
Fred, how was filming Comedians in Cars Getting Coffee with Seinfeld? Where did the "going to the toilet while the other person's answering the question" came from? It was one of the funniest shows, and I'm actually curious about the coffee you drank, because Seinfeld said it was the best coffee he ever had

Fred: Can I put up a question for the /r/science section? Do we know more about history now or did they know more about history better back then because they were closer to the time? In other words, what was a history lesson like in the year 1450? Like, do we know more because we've unearthed more FACT, or did they know more because they were closer to the time?
I'll just leave that out there.
And it got weirder until Carrie had to finally cut off debate by saying, "Guys, this is…whistle".
Read the entire AMA here.
Want the latest news from Portlandia? Like them on Facebook and follow them on Twitter @Portlandia and use the hashtag #portlandia.
Portlandia returns to IFC on Thursday, Jan. 8 at 10p