Check Out Highlights From Sleater-Kinney's Reddit AMA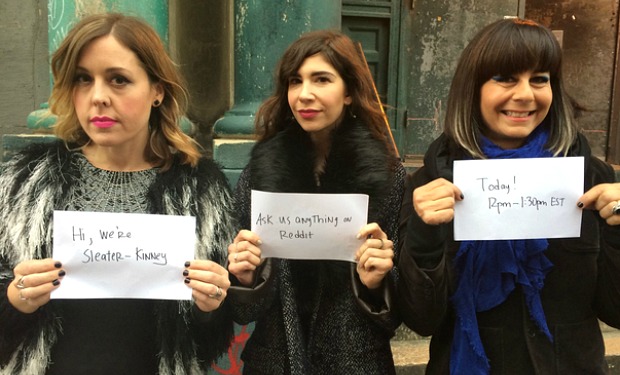 Posted by Melissa Locker on
When Carrie Brownstein isn't writing and starring in Portlandia she is blowing out amps as the guitarist in Sleater-Kinney. As the celebrated rock trio gets ready for their reunion tour and to release their new album, No Cities to Love, Carrie and Corin Tucker and Janet Weiss headed to Reddit for one of the site's all-out Q & A AMA sessions. Topics covered include favorite cookies, whether Fred would be a roadie when the band hits the road, and Carrie's life-long dream of opening for Phish.
Here are a few highlights:
What songs can we expect on the upcoming tour? Will it be a varied setlist, and will you be digging deeper into your back catalogue, and playing live rarities like on the Hot Rock tour, in addition to the No Cities to Love tracks?
We have been practicing songs from each album in addition to the new songs. Probably not a lot of rarities as those might have been weeded out years ago for a reason! Some songs fit together in the set better and some are just our favorites like Jumpers or Oh!
Who's got the best dance moves?
Janet. hehe
Will there be a portlandia skit where fred and carrie go to a sleater Kinney show?
Unlikely. But Fred offered to be our roadie IRL
Hey Carrie, love your guitar playing, especially the long fuzzed out solos on The Woods. I know the new songs are shorter but will the new album have a similar guitar style? Thanks for reuniting, you are the best band in the world.
We are so glad to be back! The new songs ARE shorter. Wanna hear another one from the new album?? Here:
Want the latest news from Portlandia? Like them on Facebook and follow them on Twitter @Portlandia and use the hashtag #portlandia.
Portlandia returns to IFC on Thursday, Jan. 8 at 10/9c