Fred and Carrie Put a Bird (in a Basket) on the Rachael Ray Show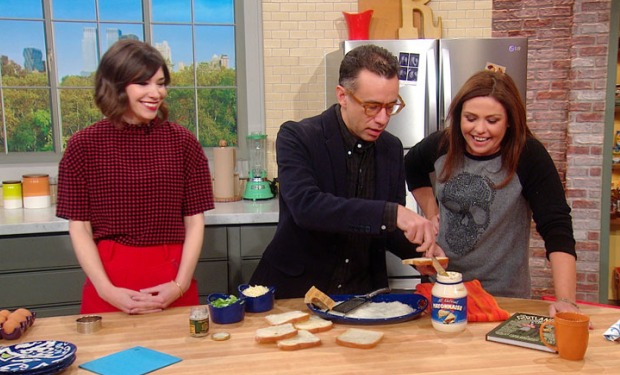 Posted by Melissa Locker on
Fred and Carrie stopped by The Rachael Ray Show today to whip up (in the most pacifist way possible) some delicious food and show her how they do it in Portlandia.
Head over to the show's website to watch Fred and Carrie cook up a grilled cheese delight with what one can assume are local eggs laid by the heritage-breed birds kept in the urban homestead and hand-collected just this morning for peak freshness (they learned it from Aliki!). The whole hand-crafted feast is topped off with some truffled sea salt for that extra artisanal gourmet touch. Remember: once you pay for it, it is freegan.
It's just one of the many recipes in the The Portlandia Cookbook, which is available in stores now. For more menu ideas and peek inside the book, check out the Portlandia Cookbook Menu Generator.
Want the latest news from Portlandia? Like them on Facebook and follow them on Twitter @Portlandia and use the hashtag #portlandia.