Conan Made the Most Star-Studded Awards Show Intro Ever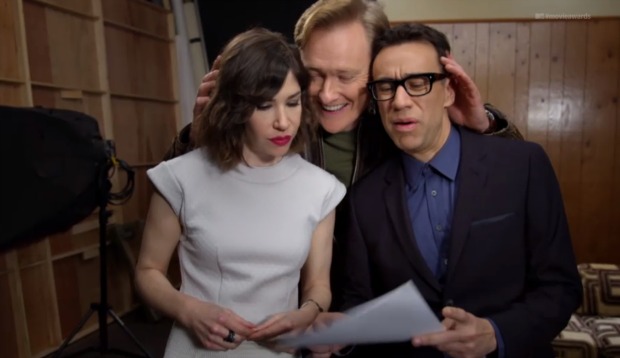 Posted by Melissa Locker on
In what may be the only time that Martin Scorsese and Taylor Swift work on the same project (although Tay Tay has taught us to never, ever say never ever), Conan O'Brien pulled off a bit of Hollywood magic last night.
The comedian and talk show host managed to cram 50 celebrity cameos into his opening for the MTV Movie Awards and it was a Whitman's Sampler of everyone's favorite stars, including Andy Samberg, Seth Rogen, Sarah Silverman, Jessica Alba, Ed Helms, Jason Bateman, Lupita Nyong'o, Taylor Swift, Martin Scorsese, James Franco, Paul Rudd, Aziz Ansari, Grumpy Cat, Katy Perry, Jack White and, naturally Portlandia's own Fred and Carrie.
Want the latest news from Portlandia? Like them on Facebook and follow them on Twitter @Portlandia and use the hashtag #portlandia.
Portlandia airs on IFC on Thursdays at 10/9c