Jeff Goldblum Did a Reddit AMA and It Was Amazing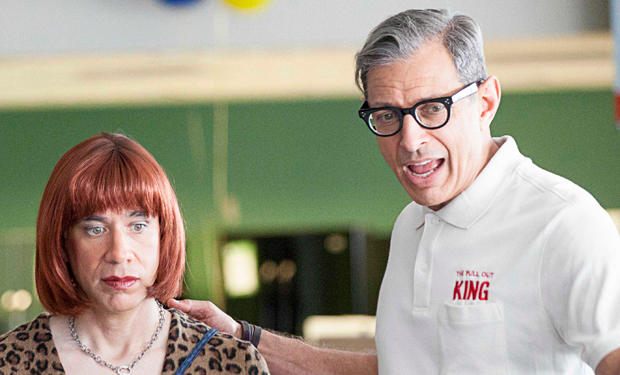 Posted by Melissa Locker on
There's no denying that Jeff Goldblum is awesome. The actor, who describes himself as "currently here and there on Portlandia," and as "an open-faced sandwich" took some time out of his acting schedule to stop by Reddit to answer the internet's many many questions. We give it ten Goldblums out of a possible ten Goldblums.
Here are some of the highlights:
1.
Redditor: Are you aware that someone slowed down your apple ads so it sounded like you were drunk?If so did you approve?


Jeff Goldblum: Yes. I'm aware. And yes, I approve heartily. Beige.

[Here's a link to what they are talking about]
---
2.
Mr. Goldblum, if you could splice your DNA with another organism, what would you choose and what would be your name?

Hahahaha. Let's see. Off the top of my head, I'd splice myself with a dolphin, and my name would be Surf Goldblum.
---
3.
Can you tell us something about yourself that we may find surprising?
Hahaha. Surprising. Hmmmm.
I've never had a cavity or a filling.
See? You're surprised.
---
4.
Did you know the Goldblume (golden Flower) is an edible chrysanth?

I had no idea! So am I! An edible kind of flower.
---
5.
What is your favorite dinosaur? I have you pegged for a stegosaurus man.

I'm no expert but since childhood I've had a fondness for the triceratops, because I read a kid's book about a kid who finds an egg in his backyard, and it's a triceratops, and he rides it. Remember that book? That's the one! And then they take him to Washington. Boy, you're into dinosaurs, you really know them.
---
6.
Where the hell do you buy your bowties? I've looked high and far for that one you wore on Conan. No luck!

Brooks Brothers. They are reversible.
---
7.
What is the best advice ever given to you?

Ooooh.
Gee. The best advice ever given…to me… Let's see. Oh boy. This is a good one. The best advice ever given to me is fill your days with what you love doing. Also, you know, contribute as substantially as you can to the community, and, uh, something the opposite of what the opposite of what the character does in Wolf of Wall Street. Do something worthwhile and substantial, not with any sales technique or baloney on top of it, and give as much as you can. The opposite of the Wolf of Wall street, but I don't know how to put that into a pithy piece of advice. And also, put down your device, whatever it is, when you cross the street. Stop, look, and listen. Both equally important.
Want the latest news from Portlandia? Like them on Facebook and follow them on Twitter @IFCportlandia and use the hashtag #portlandia.