Fred and Carrie Reveal the Meaning of "A-O River!" and More on Reddit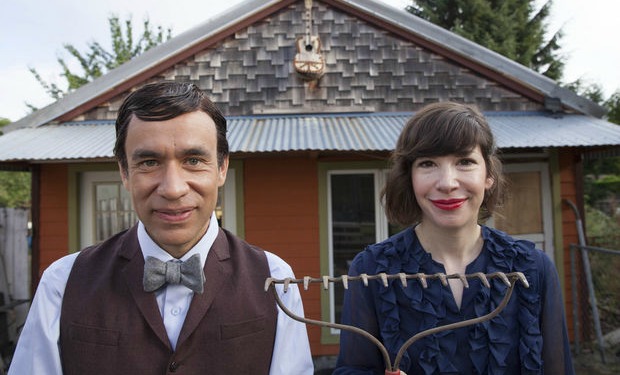 Posted by Melissa Locker on
In their continuing quest to get the entire world jumping up and down in excitement simultaneously and tip the world on its axis long enough for Portland to have four extra days of sunshine a year, Portlandia co-stars, co-creators, co-writers and co-producers Fred Armisen and Carrie Brownstein did a Reddit AMA yesterday.
You should read the whole thing (here), but these are some of the best parts:
Peter and Nancy are my favorite characters on the show. What was the inspiration for Peter's pasta addiction and will they go anymore adventures like starting a B&B??
Fred: That came from a real dinner that Carrie and I had in Los Angeles. And we were looking at the menu, and we just thought "well obviously we can't order pasta, so I guess we have to order this." So we started talking about, why do we have to avoid pasta so much? So it was more that we were weighing the difference between the difference between enjoying life and really living, or ordering salmon.

Carrie: or salad. And we talked about how, on our deathbeds, we aren't going to say "I'm so glad I ate so many salads." And then we watched jealously while this hearty Australian couple at a giant bowl of pasta. And were really unhappy.
Fred: I forgot about that.

Carrie: We sat and watched it like porn.
Fred, have you ever "touched Bill Hader's butt?"
Fred: I think the question is, have I ever NOT touched Bill Hader's butt? Frequently, often, and SNL can often be stressful, so a good butt massage…

Carrie: My question is: Cheeks, crack or anus?

Fred: My question is: Monday, Tuesday or Wednesday? Any day will do.
Will there be a dream of the 1790s?
Fred: That's not a bad idea.

Carrie: I don't think they had dreams in the 1790s.

Fred: It was a very transitional time. They were just getting over the revolutionary war.
What's the longest you've ever waited for brunch?
Carrie: Probably 45 really angry minutes.

Fred: Same, probably the same brunch as Carrie. I've been so angry that I've left to go get food at diners.
Was that chicken's name actually Colin or was that just a stage name?
Fred: The chicken is in CAG (the Chicken Actor's Guild) so… we can only use his legal name for credit.

Carrie: Fred and I both dated Colin for a bit.

Fred: And please, nobody freak out about this. It's 2014, love is love, we're not marrying Colin, we didn't have any babies, but it's modern times.
Fred, has anyone ever told you that you have beautiful eyes?
Carrie: All the time! All the time people do! That's why he had to start wearing glasses, because it was distracting people. Imagine two unicorns walking around. That's what Fred's eyes are like.

Fred: My eyes are like two unicorns tied together.
Did you ever figure out what A-O River! meant?
Fred: It's almost like "attention! This way! I'm here! This is my location!" Carrie made it up.

Carrie: My dream is that a river rafting guide uses it in their prep talk. Or that somebody announces that before they start their period.
What is the dream of the 90s?
Fred: Lollapalooza for ever, and ever and ever. Mainstage, side stage, all of it.

Carrie: I think the 90s had this…monolithic quality to them. Because it was pre-9/11, and everybody thought we were veering towards the Millenium, with all of these institutions in place, and the notion of the future was that it was going to keep getting bigger and better. It seems like a pre-anxiety decade to me.
What haven't you pickled yet?
Fred: Pickles. We haven't done a double pickle yet. Like we've never gotten a jar of pickles and picked that. Brand-new concept.

Carrie: I'm not a huge fan of pickles. But I would be interested in pickling pizza. I would just take an entire pizza and pickle it. That's one of the most disgusting things I can think of.

Fred: You would need a big, huge, flat jar.
Fred, Can I borrow 20 bucks?
Carrie: I'm sorry Fred, I wrote that in.

Fred: I put that in your ATM. Go to your ATM and withdraw $20. That $20 is from me.
Want the latest news from Portlandia? Like them on Facebook and follow them on Twitter @IFCportlandia and use the hashtag #portlandia.
Portlandia returns to IFC on Thursday, February 27, 2014 at 10/9c