The Citizens of Portlandia: Jedediah Aaker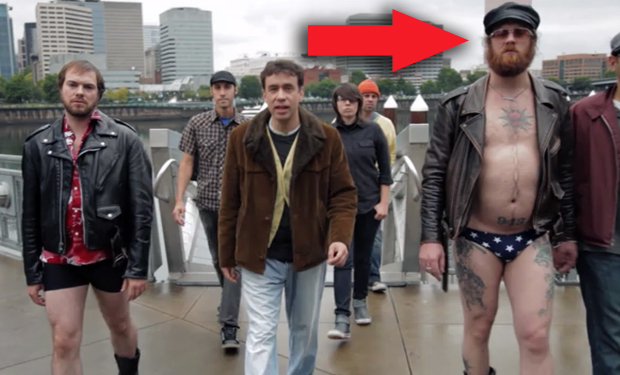 Posted by Melissa Locker on
If you've watched the "Dream of the '90s" video over and over again, you may have found yourself wondering about the man in the star-spangled Speedo and leather jacket. That man is Jedediah Aaker, one of the Citizens of Portlandia.
When Jedediah isn't guest starring in roles like the referee in the scavenger hunt, brunching, helping to celebrate Nina's birthday, attending Spyke's wedding and many many more episodes of Portlandia, you can find Jedediah in his hometown of Portland. He fills his days by hosting party buses for BarFlyBus.com, running his vintage vending machine business, bartending at the Tonic Lounge and competing as a founding member of The Portland Beardsmen. He even judged the West Coast beard competition that was seen in Whisker Wars. He also plays bass in The Gnash, which he describes as sounding like "a primer grey broken down camaro."
Check him out in "Dream of the '90s" and keep your eye out for him in Season Four of Portlandia, which premieres on Thursday, February 27 at 10/9c:

Want the latest news from Portlandia? Like them on Facebook and follow them on Twitter @IFCportlandia and use the hashtag #portlandia.
Portlandia returns to IFC on Thursday, February 27, 2014 at 10/9c