Portlandia Returns Feb 27 with Epic Guest Stars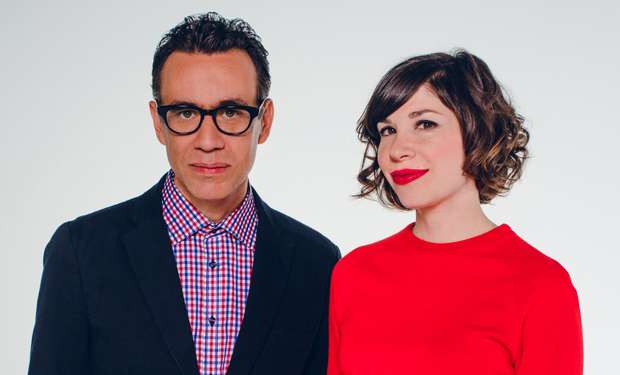 Posted by Melissa Locker on
Get excited: Fred Armisen and Carrie Brownstein are coming back to IFC on Thursday, February 27th at 10/9c and they are bringing some incredible guest stars to the fourth season of Portlandia.
Joining Fred and Carrie this season are Tunde Adebimpe (TV On The Radio), Jello Biafra, Vanessa Bayer (Saturday Night Live), Kirsten Dunst (Melancholia, Spider-Man), Joshua Homme (Queens of the Stone Age), singer-songwriter k.d. lang, Duff McKagan (Gun N' Roses, Velvet Revolver), Silas Weir Mitchell (Grimm), Michael Nesmith (The Monkees), Mark Proksch (The Office), Maya Rudolph (The Way, Way Back, Bridesmaids), columnist Dan Savage, Nick Swardson (Reno 911!), jazz duo Tuck and Patti, Jeff Tweedy (Wilco) and Olivia Wilde (HER, House). Paul Allen and members of the Portland Trail Blazers also stop by this season.
Returning this season are Ed Begley Jr. (Arrested Development, Pineapple Express), Steve Buscemi (Boardwalk Empire), Annie Clark (St. Vincent), Jeff Goldblum (The League), Kumail Nanjiani (Newsreaders, Franklin & Bash), Jason Sudeikis (Eastbound & Down, We're The Millers) and director Gus Van Sant (Promised Land, Milk). Kyle MacLachlan (How I Met Your Mother, The Good Wife) will also be back as Portlandia's Mayor.
Watch a video of Fred and Carrie announcing Portlandia's return below:
video player loading
.
.
.
Facebook and follow them on Twitter @IFCportlandia and use the hashtag #portlandia.
Portlandia returns to IFC on Thursday, February 27 at 10 PM ET/PT