"Portlandia" Seasons 4 and 5 Coming Early 2014, 2015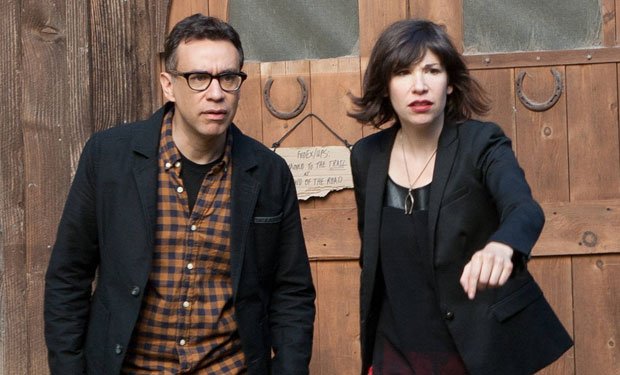 Posted by Melissa Locker on
Great news out of IFC HQ this morning: Our original comedy series "Portlandia" just got renewed for not one, but TWO more seasons. That's right Fred Armisen's and Carrie Brownstein's sketch comedy show is coming back for a fourth and fifth season. Each season will feature 10 half-hour episodes, to premiere in early 2014 and early 2015, respectively. The Emmy nominated, Peabody and WGA Award-winning series is created and written by Fred Armisen (SNL) and Carrie Brownstein (Sleater-Kinney), who also star in the show, and Jonathan Krisel, the show's director. "Portlandia" is executive produced by Lorne Michaels and produced by Broadway Video.
As fans of the show know, the first three seasons of "Portlandia" were filled with gentle satire and social commentary all rolled up in a laugh-out-loud love letter to the city of Portland, Or., and every other city like it. Through the sketches and with a memorable cast of characters and guest stars, including Kyle MacLachlan (Desperate Housewives, Twin Peaks), Chloë Sevigny (American Horror Story), Jeff Goldblum (Jurassic Park), Kumail Nanjiani (Franklin & Bash), Roseanne Barr (Roseanne), Rose Byrne (Bridesmaids), Patton Oswalt (Young Adult), tennis champion Martina Navratilova, and George Wendt (Cheers), among many others, Fred and Carrie show off the quirky, free-range charms of "Portlandia." Two more seasons means more Fred and Carrie and more of your favorite residents of Portlandia, including overly eco-conscious couple Peter and Nance, Nina and Lance and, of course, more Candace and Toni:
video player loading
.
.
.
We can't wait.
Want the latest news from Portlandia? Like them on Facebook and follow them on Twitter@IFCportlandia and use the hashtag #portlandia.
"Portlandia" returns to IFC in early 2014