"Portlandia's" Fred Armisen and Carrie Brownstein play "SNL" together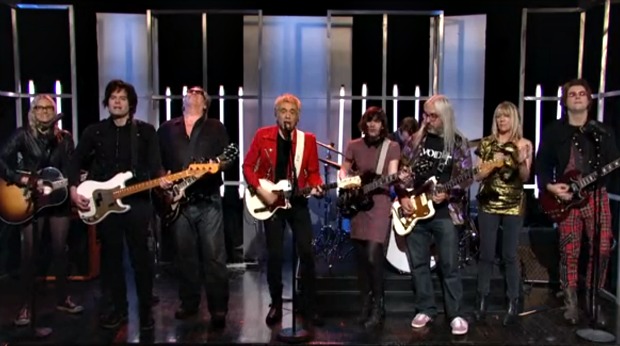 Posted by Melissa Locker on
While we're all used to seeing Fred Armisen play Garth, Mahmoud Ahmadinejad or Ian Rubbish on "Saturday Night Live," on last Saturday's episode of SNL, his Portlandia co-star, co-creator and co-writer Carrie Brownstein showed up on stage at Studio 8H, too. Carrie joined Fred for the final sketch of SNL's season finale. Fred was playing Ian Rubbish, the Thatcher-loving British rocker he introduced just over a month ago in the "History of Punk," with his backing band the Bizarros played by Bill Hader, Jason Sudeikis and Taran Killam.
He was soon joined onstage by Carrie, along with by a supergroup made up of a who's who of indie rock royalty: Sonic Youth's Kim Gordon, Dinosaur Jr.'s J. Mascis, singer-songwriter Michael Penn and Portlandia guest stars Sex Pistols' Steve Jones and Aimee Mann. Fred belted an original farewell tune, and the simple lyrics said it all: "It's been all right, I've had a lovely night with you."
Watch now and see if you don't get a tear in your eye:
Want the latest news from Portlandia? Like them on Facebook and follow them on Twitter@IFCportlandia and use the hashtag #portlandia.