Portlandia goes on a walkabout with Bill Hader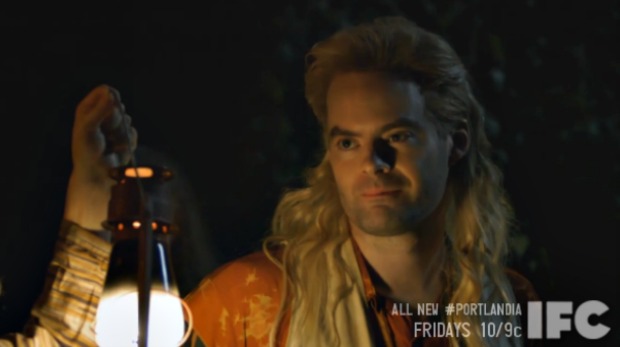 Posted by Melissa Locker on
The season finale of Portlandia was filled with a lot of magical and memorable moments, but perhaps the most last impression was of that of SNL's Bill Hader in a majestic mullet.
If you missed the season finale of everyone's favorite sketch comedy show, there was a blackout in Portlandia when the Mayor (played by Kyle Maclachlan, of course) was off the grid and someone at City Hall forgot to pay the power bill. An "Oregon Power" staffer (played by Kumail Nanjiani), gave the city a final notice, and then had no choice but to discontinue the city's service. With one click of the power company's switch, * poof * Portlandia was in a blackout.
When the lights went out, a mysterious stranger with a hilariously exaggerated accent and shoulder-length blond hair showed up at Peter and Nance's bed-and-breakfast. He introduced himself as "Birdman" and suggested that they all need to go on a "walkabout." When you have Fred Armisen, Carrie Brownstein and Bill Hader all on the same screen, hilarity is bound to ensue.
Watch this clip from "Portlandia'sseason finale:
video player loading
.
.
.
Want the latest news from Portlandia? Like them on Facebook and follow them on Twitter@IFCportlandia and use the hashtag #portlandia.