The dream of the 1890s is alive: Portlandia goes steampunk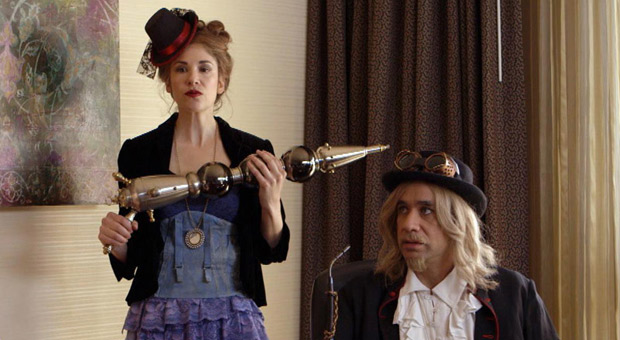 Posted by Melissa Locker on
As you may recall, the Dream of the 1890s is alive in Portland. So obviously the residents of Portlandia are really into steampunk, which, in case you don't know, Wikipedia helpfully defines as "a sub-genre of science fiction that typically features steam-powered machinery, especially in a setting inspired by industrialized Western civilization during the 19th century." Yeah, the dream of the 1890s is alive with the added kick of a brass steam engine.
Whether you're a fan of the gnome race in World of War Craft, prone to watching "Sky Captain and the World of Tomorrow" over and over again, or have Will Smith's "Wild Wild West" on repeat, steampunk has a lot to offer. Especially, if you don't have a job. When steampunks aren't re-enacting their favorite airship adventures, they are going to conventions (well, the steampunks that inhabit the world of Portlandia at least). Here's Carrie getting ready for her big day at the steampunk convention with real members of the Rose City Steampunk Society, appropriately attired:
Watch as Portlandia tackles the steampunk world in this clip from last Friday's episode and be sure to tune in for a brand new episode as season three continues on Friday at 10/9c:
video player loading
.
.
.
Want the latest news from Portlandia? Like them on Facebook and follow them on Twitter@IFCportlandia and use the hashtag #portlandia.
Portlandia airs on IFC on Fridays at 10/9c