Watch "Winter in Portlandia" in The Stream Room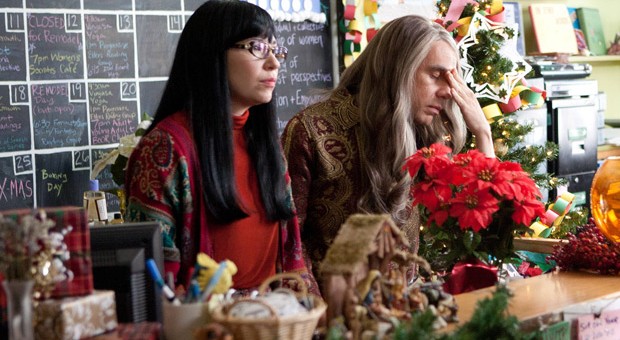 Posted by Melissa Locker on
Do you frequently find yourself crying uncontrollably because you haven't been able to watch Winter in Portlandia? Fix that right now by heading to the aptly titled The Stream Room where you can watch the special installment of Fred Armisen and Carrie Brownstein's sketch comedy show Portlandia. If you have already watched Winter in Portlandia, watch it again! It's the best way to wile away the hours until the new season of Portlandia kicks off on Friday, Jan. 4th at 10/9c with a double dose of two new episodes.
In the first ever glimpse of the land of Portlandia in wintertime, we see Peter and Nance struggling to keep off winter weight by cutting pasta from their diets. Then we get to meet Candace's son (Bobby Moynihan) as he visits Women and Women First bookstore for some holiday shopping (vagina pillows for all!) Plus Jim Gaffigan stars as food cart proprietor trying to keep his business, Stu's Stews, profitable in cold weather. Bryce and Lisa offer a winter vacation at their newly opened Outlet Hotel, while Gahvin Quin spends the season inside building an elaborate recording studio in his basement.
Watch this clip from Winter in Portlandia and then go watch the whole thing over in The Stream Room. You're welcome:
video player loading
.
.
.
Want the latest news from Portlandia? Like them on Facebook and follow them on Twitter@ifcPortlandia and use the hashtag #portlandia.
Portlandia returns to IFC on Friday, January 4th at 10/9c