Watch Portlandia's Fred Armisen play with Yo La Tengo on Late Night with Jimmy Fallon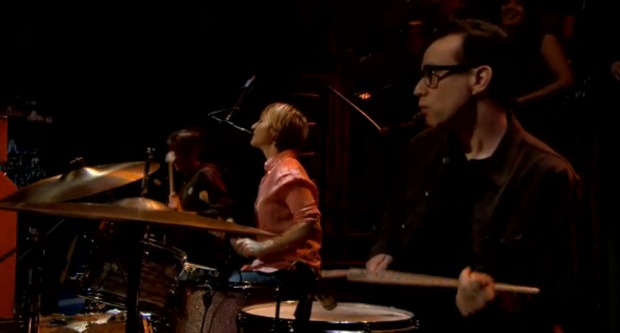 Posted by Melissa Locker on
What are three great tastes that are better together? Peanut butter and chocolate, pickles and whiskey and Yo La Tengo and Fred Armisen. So last night we sat on our couch eating Reese's peanut butter cups, drinking picklebacks and watching Portlandia's own Fred Armisen play drums with Yo La Tengo on Late Night with Jimmy Fallon.
Fred and Yo La Tengo go way back, most recently he joined the band for a string of Hanukkah shows in Hoboken. So it wasn't a huge surprise to see him on stage with Yo La Tengo (who Jimmy Fallon appropriately called "one of the most beloved bands in indie rock"), but it was a nice one. The group played a few songs off of their brand new album, Fade with Fred drumming alongside Georgia Hubley in a blazing three drum performance of the album's opener "Ohm." As their performance reminded viewers last night, Yo La Tengo are pretty much the best. The New Jersey group has been putting out such consistently great albums for so many years that some people (us included) have started to take them for granted. No more! Their new album is incredible and everyone should go buy it right now. Go ahead, we'll wait. While you're waiting for the songs to download, watch Yo La Tengo and Fred play "Ohm":
And as a web exclusive, Yo La Tengo showed their gentler side with a performance of "I'll Be Around" off the new LP:
Want the latest news from Portlandia? Like them on Facebook and follow them on Twitter@ifcPortlandia and use the hashtag #portlandia.
Portlandia airs on IFC on Fridays at 10/9c