Watch Portlandia stars Fred Armisen and Carrie Brownstein visit an activist bookstore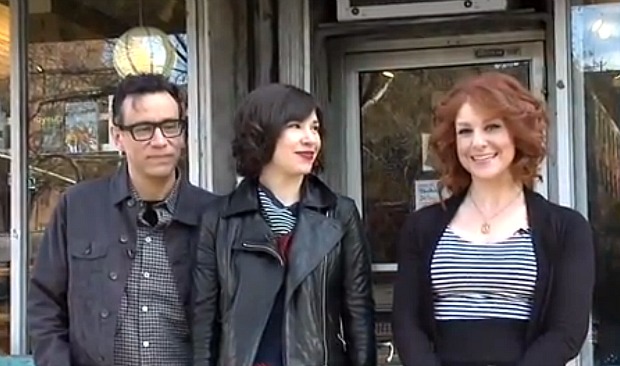 Posted by Melissa Locker on
Out of all the characters in Portlandia there is something truly special about feminist bookstore owners Toni and Candace. Whether they are reminding Steve Buscemi about their bathroom policy, running a journaling group with Heather Graham, "helping" Audrey Plaza find the obscure texts on her reading list or confronting tennis champion Martina Navratilova over a mediocre Yelp review, Toni and Candace are some of the most outspoken members of the Portlandia community. So we weren't surprised when Vulture asked Portlandia stars and co-creators Fred Armisen and Carrie Brownstein to head over to NYC feminist bookstore Bluestockings with podcaster/comedian extraordinaire Julie Klausner (who we consider an old friend since she hosted a Portlandia event at the Paley Center last year) and try to recreate some of the magic and maybe buy a vagina pillow or two.
Watch as Fred and Carrie peruse vegan cookbooks, study activist literature, admit that carrying around Howard Zinn books makes you look smart and make you wish you were on Carrie's Christmas gift list. Then, download Julie's Podcast, "How Was Your Week," or subscribe on iTunes here and be sure to tune in to a new episode of Portlandia on Friday at 10/9c:
Want the latest news from Portlandia? Like them on Facebook and follow them on Twitter@ifcPortlandia and use the hashtag #portlandia.
Portlandia airs on IFC on Fridays at 10/9c