Spoiler Alert: Watch a new clip from season three of Portlandia, airing tonight at 10/9c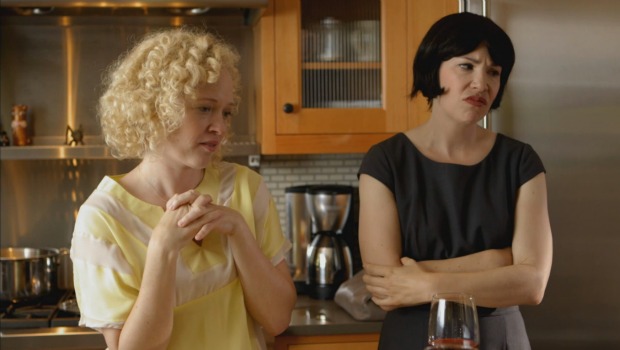 Posted by Melissa Locker on
You know how it is. You're talking to a friend and they casually mention a major spoiler on your favorite TV show. This brand new sneak peek clip from season three of Portlandia, which returns to IFC this Friday, Jan 4 at 10/9c with two new back-to-back episodes, explores that universal, annoying phenomenon.
In this new clip, which you can see again during the second episode of Friday's double dose of Portlandia, we see last season's Battlestar Galactica obsessives Doug (Fred Armisen) and Claire (Carrie Brownstein) throw a dinner party and discuss some of TV's hottest shows, including Breaking Bad, Game of Thrones, Mad Men, The Wire, and Homeland. Much to their friends' chagrin, they can't help but casually divulge some major spoiler alerts (you've been warned!)
In the third season of Portlandia, everyone's favorite sketch comedy show features all your favorite Portlandia denizens, plus guest stars including Roseanne Barr (Roseanne), Matt Berry (The IT Crowd), Rose Byrne (Damages, Bridesmaids), band Dirty Projectors, Bill Hader (Saturday Night Live), Juliette Lewis (Conviction, Natural Born Killers), J Mascis (Dinosaur Jr.), tennis champion Martina Navratilova, Patton Oswalt (Young Adult), George Wendt (Cheers) and a few more surprise guests!
Watch the clip from season three of Portlandia, but you've been warned MAJOR SPOILERS:
video player loading
.
.
.
Want the latest news from Portlandia? Like them on Facebook and follow them on Twitter@ifcPortlandia and use the hashtag #portlandia.
Portlandia returns to IFC on Friday, January 4th at 10/9c