Watch the Battle of the Gentle Bands on Portlandia, airing tonight at 10/9c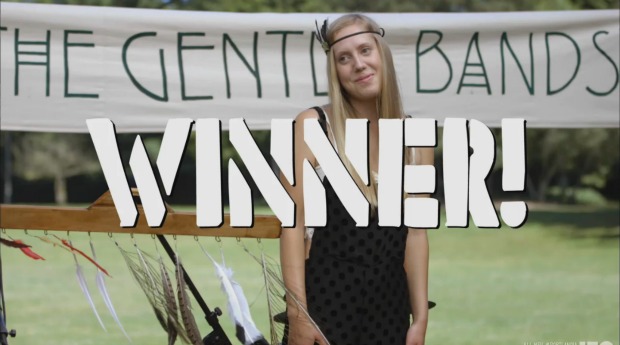 Posted by Melissa Locker on
Shhhh! You're not going to want to miss this sneak peek clip from Friday's brand new episode of Portlandia. But you're going to have to be extra quiet in order to fully appreciate Portlandia's first (and maybe last) Battle of the Gentle Bands. In fact, go put on some slippers, sit on a cushion and mute your cell phone. Okay, now you can enjoy watching Fred Armisen and Carrie Brownstein very quietly rock out with the help of a certain Dinosaur Jr. frontman. That's right, if you've ever wanted to see J. Mascis scolded for playing too loudly, now is your chance.
So stop eating chips, sit quietly and watch as the Battle of the Gentle Bands gets underway. Then be sure to tune in to a new episode of Portlandia on Friday at 10/9c when guest stars Roseanne Barr (Roseanne), George Wendt (Cheers) and the Dirty Projectors stop by Portlandia:
video player loading
.
.
.
Want the latest news from Portlandia? Like them on Facebook and follow them on Twitter@ifcPortlandia and use the hashtag #portlandia.
Portlandia airs on IFC on Fridays at 10/9c