Enter the fart patio on an all new Portlandia, airing tonight at 10/9c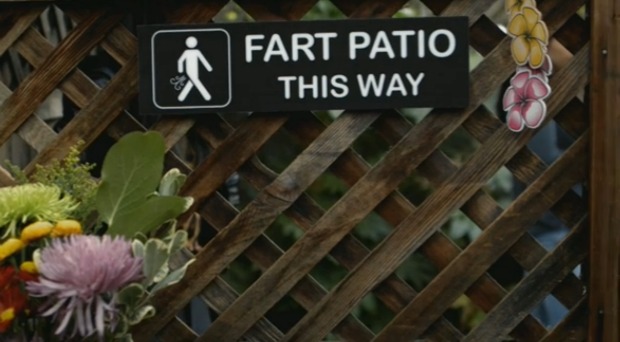 Posted by Melissa Locker on
We all know that we're supposed to eat healthy. Our parents have pounded Eat Your Vegetables! into our heads since we were kids. But the honest truth is that sometimes vegetables can be a wee bit hard on the digestive system and while we know dark leafy greens are chockfull of vitamins, they are also full of, well, gas. Portlandia knows your dark secrets and is willing to air them out …so long as any and all such airing takes place in the designated area a.k.a. the fart patio.
In this sneak peek clip from the brand new episode of Portlandia, which airs Friday at 10/9c, Malcolm (Fred Armisen) and Kris (Carrie Brownstein) decide to start eating healthy by having lunch at a local raw vegan restaurant. However, their lunch time suddenly becomes uncomfortable as Malcolm and Kris realize eating raw food can have some side effects.
Watch this clip and be sure to tune in this Friday and be on the look out for guest star Juliette Lewis (Conviction, Natural Born Killers) as she drops by Portlandia for a special visit.
video player loading
.
.
.
Want the latest news from Portlandia? Like them on Facebook and follow them on Twitter@ifcPortlandia and use the hashtag #portlandia.
Portlandia airs on IFC on Fridays at 10/9c