Jonathan Krisel talks about the new season of Portlandia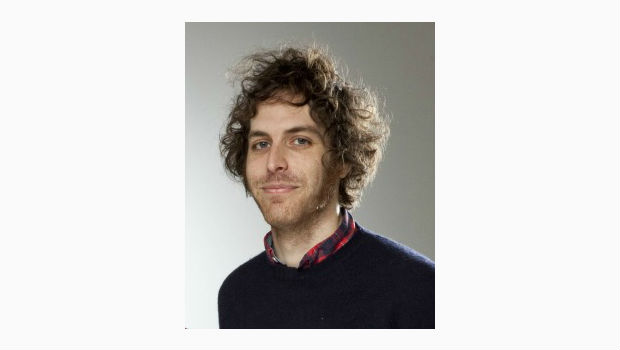 Posted by Melissa Locker on
Portlandia co-creator, writer and director Jonathan Krisel is most comfortable working behind-the-scenes to craft Fred Armisen's and Carrie Brownstein's ideas into what the sketches we see during each episode. Krisel started directing when he was working with Tim Heidecker and Eric Wareheim on their show "Tom Goes to the Mayor." Then he segued into the role of director and co-exec producer of the "Tim and Eric Awesome Show, Great Job!" wearing many hats on the job, including editing, animating and writing. Jonathan went on to make acclaimed shorts for funnyordie.com, such as "Rich Dicks" and "Ed Hardy Boyz" with comedian Nick Kroll and also co-directed, co-exec produced and edited "Check it Out with Steve Brule" starring John C. Reilly. Jonathan then joined the staff of "Saturday Night Live" where he directed digital shorts such as "The Curse" starring Jon Hamm, and "Zach Drops By The Set" starring Zach Galifianakis. When Fred and Carrie were looking for a director to help take their sketch series Thunderant to the next level, Jonathan was a natural fit.
We talked to Jonathan about the new season of Portlandia, whether he's about to break into acting and what it's like directing Fred and Carrie:
So what's it like directing Fred and Carrie?
It's very exciting. The whole show is a collaboration between the three of us, from the writing to the character creation to coming up with wigs for all the other actors. So I'm not really directing them, I'm more of a collaborator. It could be a piece that Fred came up with and now it's my mission for Fred to carry out. There is a looseness to comedy that makes it work and if it's too structured, if it's too packaged, it sometimes loses that spontaneity. I'm just telling everybody what to do to help them carry out their mission. The whole process of creating the show with them is one of the most fun things I've ever done. And we are all on the same page comedically and we're not exactly thinking the same, but we're always thinking similarly. We have the same cultural references. They are really good actors. There are a lot of funny people out there who are not good actors. There's a lot of reality and grounded choices to their performances. A lot of the characters are very real. I think the three of us really like things that are very broad, but their acting choices are small and subtle which makes it funnier. As a director I'm always telling people to do less and they do that naturally.
How did you hook up with them?
They were doing Thunderant and I was working at SNL and they came in and said they were turning Thunderant into a show and wanted to know if I was interested in directing. I was a real legitimate Sleater-Kinney fan and …well, I knew Fred. The plan for the interview was that I had to pretend that I was cool on their level. And they went for it. Afterwards I just texted Fred and said maybe we should continue talking about this. There was no plan for the show at that time so I thought if I figured out what the show was about, maybe they would hire me. So I came up with the idea that the show would be sort of based on this Australian series called Summer Heights High that I was watching, but about Portland. I thought, you could do that show with Fred and Carrie and have them play all the characters. Then we did the pilot and it went really well. It's so easy and natural. It just clicked. We have similar interests and ways of being and we just get along really well.
A huge part of making something work is getting along with people you work with. You want them to succeed; you want them to bring their ideas to life as much as possible. You could have a very small idea about someone dropping their phone and you want to bring it to life in a dramatic way, because it means a lot to the person who wrote it.
What's it like moving in front of the camera?
Our budget is so low that we're constantly trying having to cut roles. In the MTV takeover sketch, I was a VJ and the day of the shoot was one of the most chaotic days of the series. And I just thought I'm going to do this myself. I just went to the wardrobe department and asked them, can you just make me look like Rob Dyrdek– who is one of the least charismatic people on earth. And they said, sure, we got it. As the producer of the show, I'm just problem solving. I'll just jump in. One of my favorite things to do now is that when we're shooting a scene and we had all these rolls for extras I just grab people who are there already. We were in an old folks home and they were like 90 and told them they had to talk. I just told this woman, "This is your line." But, yeah, I had three roles this season.
Yeah, you're breaking out!
As the director, you have it in your mind how you want the part done, how you want someone to do it, and so sometimes you just say why don't I do it myself. So for a little role, I'll just do it.
You have developed a good corps of actors that started in the first season of Portlandia and now appear throughout the show and its seasons.
There's a good family of actors in Portlandia. It's a small community with people who pop up again and again. The show's a little weird show and you want to grow with the people who are in it, like Dana who plays the chicken waitress, and Ellen who was the adult babysitter. She's great.
Directing-wise, how has it changed from season one to season three?
Once you've done things a bunch of times …well, in the beginning there was no expectation. Now we have a lot of takes we want to do things better. We start second guessing ourselves more. Things were so crazy and fun in the beginning, and as we've gotten bigger, there could be more pressure, so going into season three we have to keep things light and fun and not try think about getting bigger ratings. Not that I mind a little more pressure, but it's good to remember to stay in a vacuum and do what made you laugh. Directing wise the tone is pretty consistent throughout. It owns it's tone and as long as it's me and Fred and Carrie it won't change.
How hard is it to wear so many hats while you work?
It's easy because it's all in my head and I can just tell people what to do and how to do it.
Want the latest news from Portlandia? Like them on Facebook and follow them on Twitter@ifcPortlandia and use the hashtag #portlandia.
Portlandia airs on IFC on Fridays at 10/9c