Watch some of our favorite Nina moments from Portlandia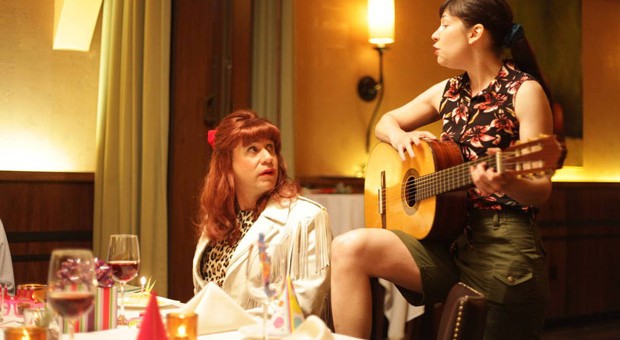 Posted by Melissa Locker on
Guess what? It's Nina's birthday and during tonight's new episode of Portlandia at 10/9c, we are having a party and everyone's invited. As the third season of Portlandia continues, join us in celebrating the life and times of Nina as she invites all her friends for a day-long event set to include activities ranging from horseback rides to sunrise yoga. Since too much is never enough for Nina, she has festivities planned well into the night. The party turns into a tapas dinner, complete with Spanish guitar entertainment, which you can catch a sneak peek of here. Nothing is too good for Nina, right? Fred Armisen has never looked quite so lovely in a dress. And Carrie Brownstein as Nina's boyfriend Lance? Well that's just icing on the cake.
Watch some of our favorite moments starring Nina and then tune in tonight at 10/9c for a new episode of Portlandia:
Nina really wants Lance to get on Facebook
video player loading
.
.
.
Nina and Lance got a new sex toy
video player loading
.
.
.
Cacao!
Want the latest news from Portlandia? Like them on Facebook and follow them on Twitter@ifcPortlandia and use the hashtag #portlandia.
Portlandia airs on IFC on Fridays at 10/9c