Carrie Brownstein tells us all about the third season of Portlandia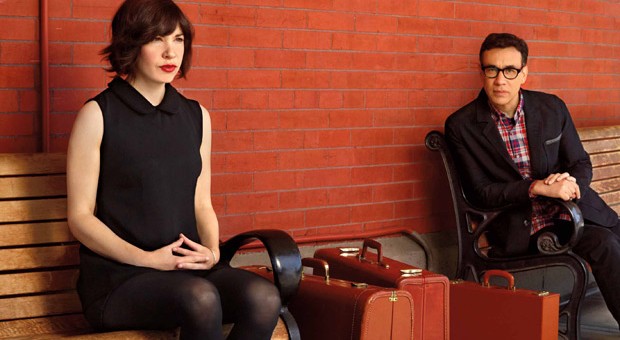 Posted by Melissa Locker on
As you have probably heard, the new season of Portlandia kicks off tonight at 10/9c with back-to-back episodes. We talked to Portlandia star, writer and creator Carrie Brownstein about what to expect this season:
Hi Carrie, as you embark on season three, did you ever think Portlandia would make it this far?
We didn't go into season one with any expectations for the show We made one episode, one season at a time. It's a pleasant surprise that people are responding positively to our creative effort.
Does the show get easier to write?
It's just as challenging if not more challenging and, honestly, we never want it to feel easy. I'm always skeptical of things that feel too facile.
This time we were interested in season long narrative arcs, like what we were seeing in our favorite shows like Homeland and Game of Thrones. We wanted more conceptual entities, more story based ideas, more about 'Who are these people?' and then 'Which of these scenarios do they lend themselves to?' We spend a lot of more time being deliberate about endings and really making sure that there is a story. Those are all basic tenets of good story writing, but when you're doing a sketch you can get wrapped up in improvising, so this season we really worked on having story arcs and endings in place. We focused on building an infrastructure in which we could improvise because the dialog is mostly improvised. There were some growing pains, but we all feel like it paid off. There's more opening for the audience to relate.
Who else is in your writers' room?
Along with Fred and Jonathan, there's Bill Oakley, who writes and also produces. Last season we worked with Karey Dornetto who was at Community, but now she is writing for The New Normal. So then Chelsea Peretti came in as a consulting writer. We would love to have her as a regular contributors.
What's the Portlandia writers' room like?
It's pretty traditional. There's a bulletin board with index cards and we put everything up on it. Sometimes an idea will become a line in a different episode or show up as a character trait. Sometimes will come up with full-fledged sketches and have to determine which character that sketch is for. The room ends up covered in index cards and you think the season is written, but then you realize there are no endings, nothing is fleshed out. There are just momentary rewards. Then we start organizing things by episode, get wraparounds, going off and writing individual scripts. It's very collaborative.
As someone who hasn't written for other television shows before, what was the learning curve like for you?
The first year I was nervous. I knew what the process would involve pitching.
Being in a band and writing a riff has a some of that. The first year we had Alison Silverman working with us, she was a writer for The Daily Show and The Colbert Report, and I kind of operated under her tutelage that year and she was wonderful and supportive and Fred and I had a great rapport. Jonathan had done some writing but neither he nor Fred had really written for their own shows before, so while there was a learning curve, we were all on a similar kind of starting point. We weren't trying to emulate another show we had worked on, because none of us had really done that before. There was no other set of rules or infrastructure.
What's the difference in the creative process between being in a band vs writing for Portlandia?
It's easier to describe the ways that they are analogous. One person comes up with an idea and someone says, "What if instead of …" and it goes from there. It's like you have a song and you come up with an album. There really are more similarities than differences. The way you add on ideas is kind of similar. The main difference with Portlandia is that we don't finish something until it's shot. There's so much improvisation that the sketch isn't finalized until it's shot.
You don't write dialogue?
We write some as placeholders, but 90% of the show is improvised. When Fred and I go into a scheme we climb this scaffolding, we know where to end up in the scene. The first season we didn't have that and we would get lost in the scene and they would build a story out of what was essentially us throwing words at the wall. Now there's improvisation, but we have a goal in every scene. We spend a lot more time writing and being very deliberate about endings and really making sure that there is a story. What we have learned from each season to season is that the characters have to have a relationship within their setting. We can't just be a situation or a concept. We have to have a goal. There has to be stakes.
After season one's now ubiquitous Put A Bird On It! and season two produced "We Can Pickle That!" did you feel any pressure to come up with a catch phrase for season three?
Absolutely not. We are a television show not a marketing company. We leave that to the audience to use their imagination. Everybody has a different relationship to the show and it's such an individual experience. You can't try to guess or determine what people will be drawn to beforehand. To do that is to limit yourself and take less risks. It's not our job to push an idea or a phrase onto the audience. I don't know if this season has a catchphrase, but it's always surprising what people relate to. We've really worked on that scaffolding within the scenes and within the story, so that we know where to go as we improvise.
What character do you most enjoy playing?
Nance, who was in the first season at the cult farm and in the motorcycle sketch in the second season with Peter. This season they open up a bed and breakfast. They are very syrupy unctuous couple. Everything is very comfortable and cozy with them, but there is always a small vibration of tension and underlying acrimony and every once in a while it oscillates so quickly. I like vacillating between those two extremes. They are a fun couple to play. You see so many couples like that, who are so benign on the surface. Then Fred came up with this very strange stutter. We love writing for them. We spend a lot of time as Peter and Nance.
Which costume do you enjoy wearing the most?
Toni from the feminist bookstore. I don't understand clothes that feel like a small apartment. There's so roomy and ridiculous and strange. As unattractive as they are, they are a much bolder sartorial choices than I make on my own.
Do you have a favorite sketch from this upcoming season?
The birthday episode. It's one single sketch, one theme, one event. I don't love playing Lance, but I love Fred as Nina. I loved exploring the adult birthday and how gratuitous and strange that is. Riding in on a horse was weird. There were balloons. Just a stream of ridiculousness that I liked.
Back in season one when Kumail Nanjiani came on the show for the first time as a clerk, did you immediately know you wanted to make him a permanent resident of Portlandia?
He was just so awesome we kept inviting him back. He's brilliant and he's an amazing improviser and we were completely fine with him playing these characters who have the same objective, which is to flummox and confound whoever he is up against. We want him back all the time. He crops up a few more times this season.
Do you consider yourself a comedian?
No, no I don't. I consider myself a writer.
Want the latest news from Portlandia? Like them on Facebook and follow them on Twitter@ifcPortlandia and use the hashtag #portlandia.
Portlandia returns to IFC tonight at 10/9c