Portlandia is heading to The Simpsons on Sunday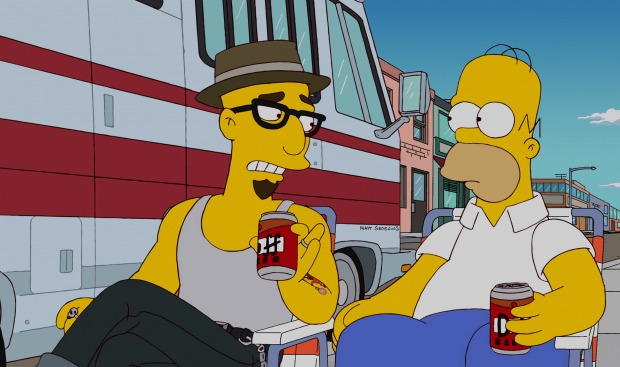 Posted by Melissa Locker on
Portlandia is invading The Simpsons. Yep, Springfield is colliding with Portland in an episode titled "The Day the Earth Stood Cool," which airs this Sunday, December 9 at 8pm on FOX. In the episode, Portlandia's stars and creators Fred Armisen and Carrie Brownstein guest star as hip parents who move in next door to The Simpsons and introduce the family to the wonderful world of cool parenting, which they use to raise their child T-Rex, played by Patton Oswalt.
Fred plays Terrence, who runs a doughnut shop that was clearly inspired by Portland's famous Voodoo Donuts. Since Homer has a built-in doughnut radar, soon enough he befriends Terrence and Bart becomes buddies with T-Rex. Carrie plays Emily, a mom with strong beliefs about natural parenting, including breastfeeding. This makes Marge feel bad about her choice to bottlefeed Maggie. (GASP!)
Adding to the show's cool factor, The Decemberists are also making an appearance and, in fact, composed original music just for the episode. (Portlandia fans may recognize lead singer Colin Meloy from that time he tried to check into The Deuce.)
We'll see you in Springfield!
Want the latest news from Portlandia? Like them on Facebook and follow them on Twitter@ifcPortlandia and use the hashtag #portlandia.
Portlandia returns to IFC with Winter in Portlandia on Friday, December 14th at 10:30/9:30c