Fred Armisen talks about the new season of Portlandia, airing tonight at 10/9c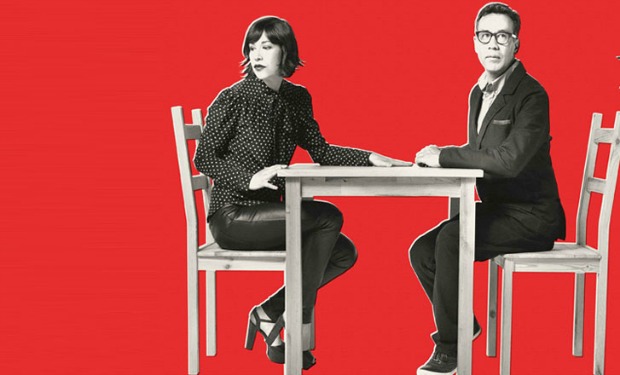 Posted by Melissa Locker on
Last week, Fred Armisen and Carrie Brownstein debuted a brand-new holiday special, "Winter in Portlandia." As fans clamor for more, on Friday Jan 4th at 10/9c, the much-anticipated third season of IFC's original sketch comedy show, Portlandia, premieres. The show's co-writer, co-creator, and co-star Fred Armisen, sat down for a lightning round of questions about the show.
What is the biggest difference in creating seasons one and three of Portlandia?
Season one was kind of like a camping trip. We just didn't even know what we were, which isn't a bad thing. We were just figuring out what we were. During the first season, we hadn't worked with Jon much and we were just sorting ourselves out. By season three we were open with ourselves about what we wanted. This time around we wanted to do more stories that went from episode to episode.
There's more of a story arc?
Yes, but we also knew to ask not just what is it, but what we want. In the beginning it was walking in the dark. Now, instead it's more thoughtful. It's "let's try and go this direction. "
You have some amazing guest stars in season three including Roseanne Barr, Patton Oswalt, J Mascis, and more. Do you write parts for them specifically or just work them into stories?
It's both. Sometimes we'll write out a whole story and we'll need someone to play a part, like an ex-girlfriend. All the people we picked were people we're fans of. But then in like Patton Oswalt's case we just liked him and wanted to fit him in. But with the ex-girlfriend we wanted someone a little crazy and a little …we really like her, but Juliette Lewis seems really explosive and we got in touch with her and asked her to play the part. And Patton we love and just had to work around his schedule.
Is it fun playing host to all these stars in Portland?
It is! They all come and start making comments about Portland. Patton was also doing stand up in town and ended up being there for a few days and he commented that he hadn't seen anyone wearing a tie the whole time he was there.
How much of Gavhan Quinn is really you?
That's my favorite character to do at the moment.
The studio tour scene with him in Winter in Portlandia was kind of amazing.
It's very much a Chicago thing. So many guys I know in Chicago are like that. It's like how guys in the 70s talked about cars all the time and now so many guys I know are talking about recording studios. Guys just sitting around talking about microphones.
Do you ever walk around in that wig and mustache?
Only at work, which is actually a lot of time, you know?
Is he the character you most relate to?
Yes, without a doubt. Although sometimes I relate to Peter, lately it's Gavhan.
Are we going to see new characters in season three or have you found your cast?
There's a few new ones definitely, but we also have a few characters that we really like and are getting to know.
Will the characters have grown at all during the hiatus? Or is it more of a "Seinfeld"-ian no hugs, no growing idea?
Oh they definitely have grown, but it's less about them growing and more about us getting to know them.
What is it like to play an enhanced version yourself on the show? Is it strange?
It's good, because I can edit who I am really am. So it's a good way to work. It makes me look better than I am. I'm always wearing nice clothes, I have glasses and my hair looks nice.
When I asked which character you most related to, you didn't choose that one.
I took that out of choices of characters. I made that one moot.
Does how you write things on SNL influence Portlandia and what can you do on Portlandia that you can't on SNL?
I don't really think about it when I'm writing. Whatever is in front of me is what I write for. If it's February it ends up on SNL, if it's June it ends up on Portlandia. They are both forgiving and gratifying. Portlandia has some stuff that can be really broad, even though it's seen as subtle, and Saturday Night Live can be experimental, too.
Is there another Portlandia live show in the works?
Not at the moment. The timing worked out last year to do some touring to promote the show. We had a lot of fun, but the timing just isn't there for a whole tour. Maybe we'll do a one off.
You've done a television, a special, a live show and a book. Is a movie next? Or are you going Trapped in the Closet style and heading to Broadway?
I would really like to do a movie. Schedule-wise I don't know when exactly, but I think it would be great to do a Portlandia movie. Some of my favorite television shows have done it and they've been great. Like Monty Python. I think it would be great.
You've mentioned schedule restrictions a few times in this chat. Obviously both you and Carrie have other day jobs, how hard is it to schedule around them?
In a positive way, it's hard, but I like scheduling to be hard. There's good results in that. When time is limited you really focus on things you want to do. If we do get to do a Portlandia tour it will be cities we really want to go to. Time restrictions are a good police officer for things we want to do.
Want the latest news from Portlandia? Like them on Facebook and follow them on Twitter@ifcPortlandia and use the hashtag #portlandia.
Portlandia returns to IFC on Friday, January 4th at 10/9c