Watch the book trailer for Portlandia: A Guide For Visitors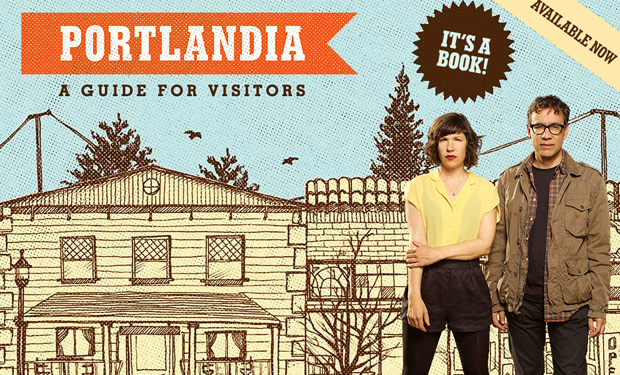 Posted by Melissa Locker on
We know that our favorite sketch comedy show Portlandia has made the city of Portland, Oregon, look pretty darn exciting what with all the mixology, scenic outdoor spaces, marionberry pancakes, live relaxing music, eco-conscious citizenry and incredibly polite society. So we're not surprised that people want to visit the fair city's feminist bookstores, local food establishments and fine retailers. We're not surprised you want to visit and we're here to help.
Introducing Portlandia: A Guide For Visitors, a comprehensive guide to all restaurants and food carts, including extensive use of symbols to signify Vegan, Freegan, Sea-gan, Wheelchair-Accessible, Skateboard-Accessible, Segway-Accessible, Clothing Optional, Polyamorous, LGBTQ, Dog-Friendly (No cats), Cat-Friendly (No dogs or mice) Mouse-Friendly (No cats or elephants), For Dogs (only), Regionally-Sourced Food, Regionally-Sourced Waitstaff, and House-Sourced Food (Born/dies on plate). You already know what hotel to stay at, where to hide and where to eat breakfast. This guidebook tells you the best of the rest. Be sure to check out a preview of the book here.
Portlandia: A Guide For Visitors, written by Fred Armisen and Carrie Brownstein, who know Portlandia best, is available wherever books are sold, including the following online retailers: Amazon.com, BN.com, and IndieBound.org. So come visit Portlandia, but bring your guidebook and don't forget your bag.
Want to know more? Watch the book trailer:
video player loading
.
.
.
* Please note, and point out to your best friend, that this book is printed on 130% recycled paper in a peanut-free, smoke-free plant by local workers in a friendly and fair environment, free of sudden noises and unnatural light.
Want the latest news from Portlandia? Like them on Facebook and follow them on Twitter @IFCPortlandia and use the hashtag #portlandia.
Portlandia returns to IFC with Winter in Portlandia on Friday, December 14th at 10:30/9:30c