Carrie, Fred and Jonathan Krisel talk Peabody and which "Game of Thrones" stars are on their "Portlandia" wishlist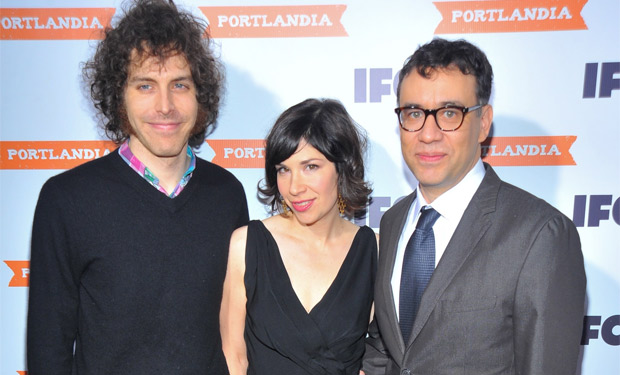 Posted by IFC on
By Jennifer Vineyard
Craving more "Portlandia"? Carrie Brownstein, Fred Armisen, and company are working on it — they've just started writing season three in Los Angeles, where co-creator Jonathan Krisel lives, and once they're done, they'll start up production in Portland, a city to which they credit their recent Peabody Award win.
"I think it's the right award for that show to impress people in Portland," Krisel told IFC after the ceremony. "We won an Emmy before, but the Peabody is almost like a literary award."
"I concur," Brownstein said, holding up her statuette. "This is for Portland."
"Portland is a place where everyone closes their eyes and crosses their fingers and hopes for a better community," Krisel added. "They keep it small and local, and usually they think if they just make great coffee, it's the best thing for the neighborhood. That's in part what makes the show special."
While brainstorming and writing the next season, the team sometimes falls prey to the behavior exhibited in the "One More Episode" episode — getting obsessed about other TV shows. "It can be like a drug," Krisel admitted.
Their current addictions? "Game of Thrones" and "Girls."
"I would almost rather live [in Westeros]," Krisel said, and then realizing that a fellow Peabody winner was also at the Waldorf-Astoria, pointed to Nikolaj Coster-Waldau, who was on hand to accept for the show. "Look, there's Jaime Lannister!"
"I practically threw myself at him," Brownstein laughed. "Where are the rest of them?"
"Where's Peter Dinklage?" Krisel wondered. "I want him for 'Portlandia"s next season."
If Dinklage isn't available — after all, "Game of Thrones" starts shooting their third season this summer as well — Krisel might want to incorporate one of the wildlings on the show, who've already proven a penchant for crossovers. "My son was in the park and he met the wildling woman from across the wall, [Rose Leslie, who plays Ygritte], who also did 'Downtown Abbey,'" he noted. "The other wilding [Natalia Tena] did 'Harry Potter.'"
Brownstein is also a fan of HBO's "Girls," she said, because of the show's "point of view."
"It's smart, it's really funny, and I find the specificity of the dialogue really refreshing," she said. "I love how it delves into the awkward moments, awkward sex, without shying away from it and in an unrelenting way. I'm all about that fearlessness and I think 'Girls' is a really exciting and refreshing show to have on TV. I think Lena Dunham is a genius. I hope it just encourages more women to make shows like this."