Tales of Portland Public Transit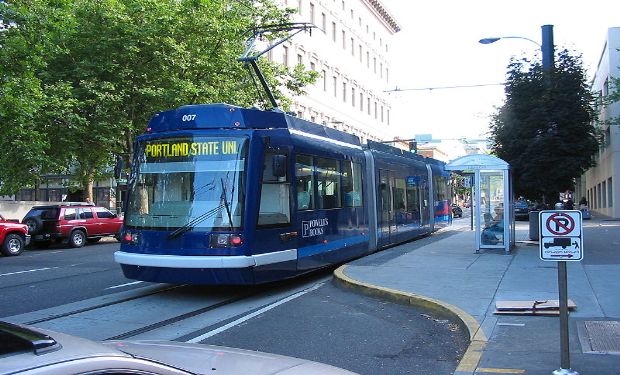 Posted by mpsinger on
In Portland, public transportation is a culture unto itself. I suppose that's true of all major cities, but it's especially valid here, in a city considered to have one of the best transit systems in the country. Combine the ease of getting around with the other things that make Portland so Portlandian, and that makes every ride on the bus, MAX or Slothcar—sorry, streetcar—an illuminating adventure for the armchair sociologist.
Luckily, someone thought to start cataloging those experiences. At TriMet Diaries, frequent participants in the culture of Portland public transportation are welcomed to contribute stories, observations and important life lessons learned while traveling across town. We asked site editor David Strom for some of his favorite essays and anecdotes. These are the abridged versions; click the links for the full entries.
The Bus Was Smokin' by Samantha
After running an errand at my credit union, I got on my usual 9:45 bus at a different stop. I got to avoid waiting with the white trash lady who likes to smoke right next to me under the shelter.
However, when I sat down, it only took a few blocks of travel for me to notice the distinct smell of burning…something. I honestly thought it was burning toast from one of the various cafes we were passing by. Then the white trash lady notices the smell too and says, "Hey, dude, you're on fire."
Actually, it was just the dude's pant leg. But still, that is definitely a new experience in public transportation for me.
---

My Nemesis Revealed by Bill Reagan
The guy sports a van dyke, which should tell you everything you need to know. If you're not familiar, the van dyke is part soul patch, part handlebar mustache – think three musketeers, or the painted beard on the V-for-Vendetta mask. He's a good looking twenty-something, well-dressed, and it's easy to picture him in his natural habitat, drinking canned beer at this month's trendy dive bar, quietly besting every earnestly mutton-chopped man with his black-belt-level hipster facial adornment.
We've both ridden the #35 for years, though not always together. My schedule is static, his seems flexible, so it's only a few shared rides a month, but I always notice him when he gets on, wanting to take his picture and send it to LookAtThatFuckingHipster.com. He's always aloof, not talking to his fellow riders, and considering I've seen most of my fellow 35-ers at King Burrito and other neighborhood cheap-eats spots, but never him, I imagined him traveling to Farm or Rontoms for dinner so that he could eat with his own kind. Fine by me.
Last week, I had a two-seater to myself when he got on and sat down beside me. … He started getting out a book, which I imagined would be David Foster Wallace or perhaps Catcher in the Rye, but it turned out to be a children's chapter book. … He was audibly struggling to read the large-type text, sounding it out slowly, clearly focused on the words more than the sentences. As he read, his finger inched along the page to accompany the labored soundtrack of syllables, and I began hurriedly deconstructing the damning picture of him that I had assembled using years' worth of insignificant and inaccurate so-called clues.
He wasn't aloof, but shy, and avoiding conversation meant avoiding the struggle to communicate. He probably didn't eat at King Burrito because the massive billboard of a menu over the cash register – all words, no pictures – was a flagrant taunt of his capabilities.
When my stop arrived, I wished my seat-mate a good day, and hoped it was the first time he had ever noticed me. I hate to think he had spent the last few years dismissing me as a judgmental bastard who stupidly assesses people based on superficial information. And if he had, I hoped he would never know how right he had been.
---
Public Transit Doppelganger Bingo by Dr. Jeff Guardalabene
If you spend any time at all on public transit, you can't avoid the doppelgangers. They add a little low-grade celebrity spice to the trip. Hey, there's Justin Bieber as a woman! Look, that guy looks like Alec Baldwin as a homeless dude! It's a rolling Entertainment Weekly out there. TMZ on wheels. After you've been riding a while, though, spotting the lookalikes just isn't enough. After a while, it's time to up your game and step into the big leagues.
I've moved on from simple solo celebrity spotting. I'm into groups now. For example, all I need is a Justine Bateman to fill out my Family Ties card. Michael J. Fox is everywhere in Portland. Tina Yothers was tough. If I really want a challenge, I work on the cast of Lost, or some buddy cop movies.
If you really get into this game, you'll need to take a few days off so you can ride lines that you wouldn't normally ride in the course of your workday. For example, say you wanted to fill out the cast of Entourage. You might start with the Green Line MAX, and keep an eye peeled as you roll through downtown toward PSU. But you'll most likely need to disembark and hit the streetcar up through the Pearl. And someone with a Portlandia bent is going to want to work the low bus numbers – 4/9/14/15, Division/Powell/Hawthorne/Belmont will probably do the trick.
You get the idea. Start easy, maybe "Friends" on the Green Line, and work your way up the ladder to something really difficult, like "True Blood" solely on even-numbered bus lines. Soon, you'll have toured Portland and made some new buddies along the way. And, on weekends, you can turn this into the only drinking game you can safely play on city streets.
---

Fun Game on the Streetcar by Heather
I live in a city with a half million other people. With such a high a concentration of people in a small space, you will likely run into all kinds of folks. And as a veteran of city living, I've become adept at identifying stinky people. It's a skill you learn quickly. "Oh, he looks ripe. Hold breath. Okay, danger averted."
However, sometimes people are "stealth stinkers." It's not obvious from how they look that a person has created a cloud of odoriferousness for everyone to enjoy. And riding public transportation, this can become a problem.
But it can also be a fun game! Sometimes on the streetcar, I play a game of "Guess the Stinker!" when it's not completely obvious. Sometimes I guess correctly, as evidenced by the sweet wind of fresh air as the offender departs.
I can't say that I win anything by guessing the stinker correctly. But I like to start my days with a sense of accomplishment.
---
Public Service Announcement for Randall by Bill Reagan
Dear Randall,
Just wanted to send you a quick note to say, dude, what's up with the way you've been behaving? Getting caught visiting that little psycho girl while Angela was out of town, then claiming you just wanted to make it clear to her that you have a new girlfriend? Telling Angela you were sick and had to go home at 8:00, then going over to that little psycho girl's house at 10:00 because you "felt better"? C'mon, Randy, you aren't fooling any of us with your bullshit.
The trouble is, you might not be as sly as you think. Believe me, Angela sees through your bullshit. Don't laugh it off, clever man – Angela has a shotgun at home, and she made it clear she's got no problem with shooting that little psycho you've been sneaking around with, especially since that little psycho wrote something on Angela's Facebook wall. (Awkward!) Add the gun to the medical documentation that proves Angela's mental capacity is "borderline retarded" (her words) and she might be right about having a viable courtroom defense.
I'm writing because I'm concerned for you, Randall. I know you don't know me, but Angela is clearly pissed about all this, considering how loudly she told the person on the phone and the entire population of the 5:45pm #6 yesterday. I'm not passing judgment – I'll leave that to Angela, as she seems primed for it – but from what I've heard, it's time you step up and be the man you said you were when you first started dating Angela. You remember, right? Back when you had a job, paid attention to her, and didn't constantly spew all that bullshit that you do now. That's all Angela wants. (And rest of us concur.)
Best wishes,
Bill
(Photo by Chris Phan)