"Portlandia" Live Chat with Kyle Maclachlan Tonight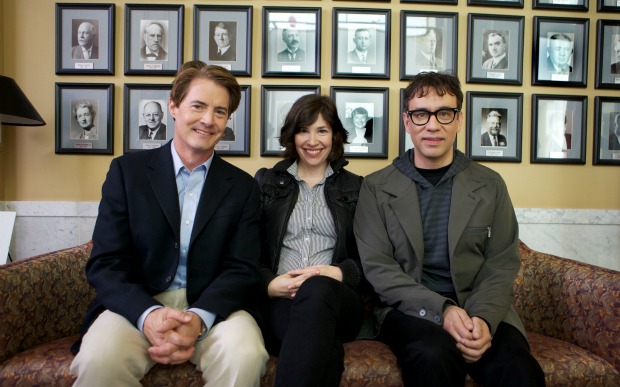 Posted by Melissa Locker on
Tune in to tonight's penultimate episode of Portlandia's second season, because it is the penultimate episode and you should savor every brand new minute of Fred Armisen's and Carrie Brownstein's brilliant sketch comedy. You'll also want to tune in to watch the mayor, Kyle Maclachlan, sing his heart out. It's not set to a reggae beat, but it's a song sung from the soul about his deep and abiding love for his city of Portlandia.
It's so touching to see Kyle get in touch with his inner troubadour and really let loose, it will bring tears to your eyes and you'll want to share your emotions, because you know that if you keep it bottled up you'll explode like Michael Douglas in "Falling Down" or a marshmallow peep in a microwave. We are here to help you avoid exploding. We've created a safe space for you to share your feelings with other like-minded Portlandia-loving folks. It's called IFC Sync and tonight, the Mayor of Portlandia, Kyle Maclachlan, will be online at IFC Sync at 10/9 c to live chat with you and help guide you through these emotionally trying times.
Here's a sneak peek of tonight's episode and we will see you online at 10/9c:
video player loading
.
.
.
Want the latest news from Portlandia? Like us on Facebook and follow us on @IFCportlandia and use the hashtag #Portlandia.
"Portlandia" airs on IFC on Fridays at 10/9c