Around the World in 80 Plates: A "Portlandia" State of Mind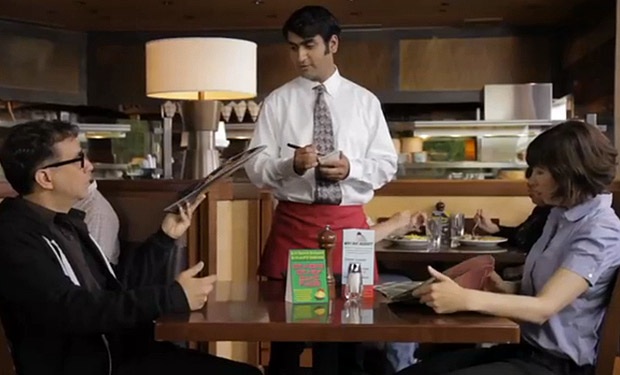 Posted by Melissa Locker on
During the premiere episode of Portlandia's second season, Fred Armisen and Carrie Brownstein are in hot pursuit of Andy Samberg when they stumble into a fictional restaurant called Around the World in 80 Plates. In the family restaurant with international flair, the fun starts when their waiter (Kumail Nanjiani) asks for their lunch order and starts asking Fred and Carrie if they want to spike their sides or, better, lobsterate their meal. It was a great sketch and an excellent way to kick off the season of the sketch comedy show.
Then a funny thing happened: A few weeks after the episode aired Bravo announced a new television show called, yep, "Around the World in 80 Plates." The show is hosted by celebrity chefs Curtis Stone and Cat Cora and will feature contestants racing around the world competing in culinary challenges. No word on whether lobster-ating a meal will be one of the competitions or if they will be required to spike a side to win points.
New York Magazine dubbed it," 'Around the World in 80 Plates': Fake Portlandia Restaurant, Real Bravo TV Show." We prefer to think of it as a Portlandia state of mind. A Portlandia state of mind that is slowly taking over the world. Which also explains this article in Salon that begs writers to stop using "Portlandia" as short-hand for quirky, which, we have to admit, we kind of like. In fact, we're all for this Portlandia-ization. We think writers should use "Portlandia" as often as they want in their articles. We think television networks should name all their new shows after "Portlandia" sketches. (Admit it, you would totally watch a "Sanitation Twins" reality show.) We think Fred and Carrie should rocket to the top of the baby naming charts, lotion should be recyclable, A-YO RIVER should be taught in water safety courses, and that every restaurant should offer lobsterating. It's only right.
Need more reasons to cheer the Portlandia-ization of the world? Tune in on Friday at 10/9 c when Portlandia's Mayor Kyle Maclachlan sings his love of the fair city.
video player loading
.
.
.
Want the latest news from Portlandia? Like us on Facebook and follow us on @IFCportlandia and use the hashtag #Portlandia.
"Portlandia" airs on IFC on Fridays at 10/9c