This is How Portland Does Valentine's Day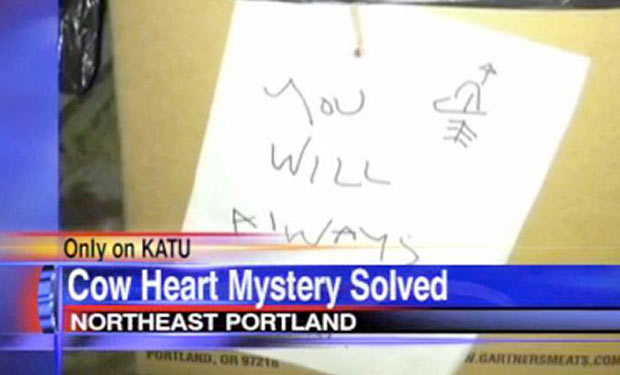 Posted by Claire Evans on
Hey America, how was your Valentine's Day? Did you buy your sweetheart a box of chocolates, have a nice dinner, and tuck into some DVDs on the couch? Sounds nice, but it doesn't hold a candle(lit dinner) to this fantastically Portland act of love-gone-awry.
On Valentine's Day, Portland artist Sarah Johnson decided to deposit an unorthodox gift on a friend's doorstep: a cow's heart. To be more precise, a cow's heart, on ice, in a black plastic baggie, with the note: "You will always have my heart." A perfectly Portlandian take on this corporate greeting-card holiday, and it would have certainly been much appreciated by its intended recipient&#8212had Sarah left the cow's heart on the right doorstep. Instead, she goofed the address, and a random stranger found the waylaid gift instead. They called the cops.
Long story short, the result is this incredible local news segment, with the impossibly Portland headline "Cow heart prankster apologizes to unintended victim," in which an ebullient and utterly unfazed Sarah Johnson leads KATU news on a mission of reconciliation.