Tell Us Your "Most Portland Thing Ever!"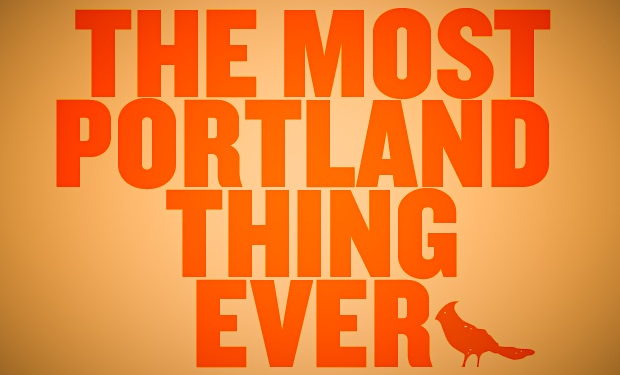 Posted by Claire Evans on
Portlanders, you know those moments. You're walking down the street, minding your own business, and then you see it: The Most Portland Thing Ever. Maybe it's a group of grown adults in matching knee-socks playing kickball in the park, or a flop of hippies building new community park benches out of peat moss. No, wait, it's a chicken on a leash, or a woman sitting in a tree weaving macramé pot hangers to raise money for her alternative circus troupe.
(All real things I have actually witnessed, by the way.)
Whatever it is, it makes you spit-take your americano and remember—once again—that where you live is definitely not like other places. People who live in Portland collect and remember these experiences, trading them incredulous conversations, in the hopes of topping one another with tall tales of knitted bicycle lock cozies and vegan mac n' cheese burritos.
In honor of these beloved absurdities, we ask you this: in the comments below, tell us about the time you saw The Most Portland Thing Ever. At the end of the week, I &#8212by an utterly subjective process &#8212will select the most lovably ridiculous submission, and it will be illustrated in a comic by Portland artist Nicole Georges, a lifelong maker of zines and tragi-hilarious autobiographical comics, not to mention someone who knows a thing or two about the dialectics of Northwest culture.
I'll keep accepting submissions for this round of stories until Friday. By submitting your Portlandia moment to IFC, you agree to be bound by these submission requirements: the moment must be your own, you will not use names of real people or post any personally identifiable information about yourself or others. All submissions become the property of IFC. We'll be doing this series periodically over the next few months, featuring some awesome local illustrators taking a crack at your Portland stories.