The Portlandia Interview: DJ Douggpound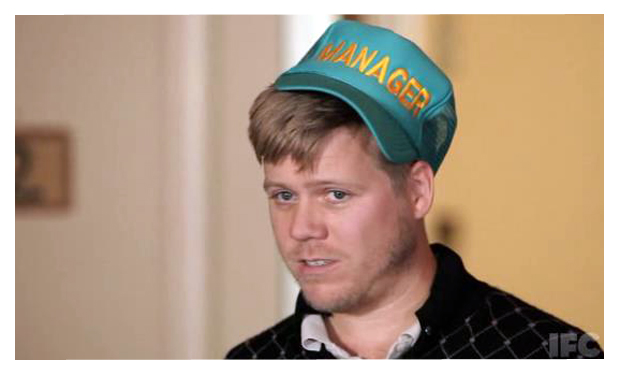 Posted by Claire Evans on
Doug Lussenhop, a.k.a. DJ Douggpound, is a rare bird in the comedy world: part joke D.J., part real musician, part video editor, writer, performer, and all kinds of amazing on Twitter. He's the go-to editor for the surrealist comedians Tim & Eric, and has lent his chops to Jon Benjamin Has a Van, Funny or Die Presents, and, of course, Portlandia. We caught up with him to chat about skateboarding in Portland, sound effects, and being a little guy.
Portlandia: In Season 2 of Portlandia, your characteristic editing style seems more in the forefront. Did you have more freedom?
Doug Lussenhop: Well, we actually had a few more editors this season, so I did less overall editing, the other guys (Daniel, Bill and Mike) ripped off my style. I'm just kidding! I can't take credit for the complete style of the editing, we all take little tricks from each other. Jonathan Krisel (the director) and I worked together for many years on Tim and Eric, as did the other editors, so we all know what's up. I wouldn't say we have more freedom, we've always had it. This show is really fun because no one's looking over our shoulder, they give us the footage and we go nuts and try to sneak as many jokes in as we can.
Portlandia: How did you get involved with Portlandia and what's your approach to it, as an editor?
Doug Lussenhop: Several years ago when Fred was on Tim and Eric, we were having lunch and he mentioned that he was shooting these internet videos with Carrie and he needed an editor. I said I'd do it and so I edited a bunch of them. They were called "Thunderant" which eventually turned into Portlandia. My approach is always just to make it funny. And sometimes to not make them too long.
Portlandia: Didn't you meet Fred in the 90s?
Doug Lussenhop: Yeah, this is a funny story. I met Fred one day when I was doing an internship at a music video production company in Chicago. This lady who I worked for introduced me to him and he said "Hey little guy!" and he treated me like a 5 year old and never broke character. Everyone was laughing hysterically but I was pissed! I HATED him! I looked really young for my age, so it probably was pretty funny. Anyway, a few years later I saw his SXSW video and I realized that he's just hilarious. Then I became a huge fan and I used to bring my camera to shows and film him doing characters between bands. I have some old footage of him dressed as a girl that works at a coffee shop. There's a sketch from season two called "I'm a Little Guy," I was born to edit that!
Portlandia: How does your work as an editor affect the kind of comedy that you do?
Doug Lussenhop: I never really think about it that much, I just do what I think is funny.
Portlandia: Do you approach comedy as an editor, or editing as a comedian?
Doug Lussenhop: Both. Either way, there needs to be sound effects.
Portlandia: How is working on Portlandia different than working with Tim and Eric, or doing your own stuff?
Doug Lussenhop: I guess Portlandia is more scripted but other than that, not much different. Both shows are hilarious and I love them.
Portlandia: What's your next major project?
Doug Lussenhop: Well, Tim and Eric's Billion Dollar Movie is out now on demand and in theaters on March 2nd and season 2 of "Check it Out! with Dr. Steve Brule" will be on adult swim in March.
Portlandia: Did you spend any time in Portland this summer? What are your favorite things to do in Portland?
Doug Lussenhop: I LOVE Portland, we got to do the editing for season one there. Any excuse to go there, I go. There's some great comedy in Portland like the Bridgetown Comedy Fest and Comedy is OK. Andrew and Mikey who run that show are great dudes, there's a lot of great dudes in Portland. And great skateparks, riding my bike around and going to skateparks, that's the life for me. Can I move there?